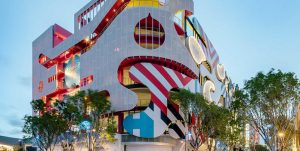 Jürgen Mayer H's new Museum Garage in Miami, Florida, the Uber Advanced Technologies Group's research and development center in San Francisco, California, Weiss/Manfredi's TATA Innovation Center at Cornell Tech in New York, ZGF Architects' Google Spruce Goose, Playa Vista, California, and the Blanton Museum of Art in Austin, Texas, top the list of buildings winning the 2019 International Architecture Awards (IAAs).
The seven-story, mixed-used Museum Garage has won in the airports and transportation centers category. Featuring the work of five designers, the structure features retail spaces on the ground floor and has a capacity for 800 vehicles.
The Uber Advanced Technologies Group's research and development center was honored in the corporate buildings category. Designed by Marcy Wong Donn Logan Architects, the building is part of the historic Pier 70. The project employs the building-within-a-building concept to preserve the historic perimeter brick walls, reducing the cost of temporary shoring while retaining the open volume of the tall spaces within.
The Blanton Museum of Art on the University of Texas Austin campus won in the museums and cultural buildings category.
Honored in the retail/showrooms category, Lumen at Beacon Park in Detroit, Michigan, was created to anchor the emerging neighborhood, spur economic development, and provide a quality place for the community in the surging and vibrant downtown district.
Founded in 2005, the International Architecture Awards, organized by the Chicago Athenaeum: Museum of Architecture and Design and the European Centre for Architecture Art Design and Urban Studies, is one of the oldest, annual public celebrations of global architecture.
"Following a rigorous process from a record number of international submissions, this year's shortlist of 350 projects highlights the amazing work done by the talented architecture visionaries whose talent and innovation have created talking points that will span generations," says Christian Narkiewicz-Laine, museum president, the Chicago Athenaeum.
"The projects on the shortlist were judged against a range of criteria including design vision; innovation and originality; capacity to stimulate, engage and delight occupants and visitors; accessibility and sustainability; how fit the building is for its purpose and the level of client satisfaction."
This year's selected buildings are from 41 nations, including Australia, Brazil, Canada, China, Denmark, Estonia, Finland, France, Germany, Greece, Hong Kong, India, Italy, Ireland, Israel, Japan, Kazakhstan, Kuwait, Malaysia, México, New Zealand, Norway, Puerto Rico, Portugal, Republic of Singapore, Russia, Saudi Arabia, Slovenia, Spain, South Africa, South Korea, Sweden, Switzerland, Taiwan, Thailand, Faro Islands, Netherlands, Philippines, Vietnam, United Kingdom, and United States.