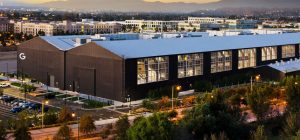 The historic Spruce Goose Hangar is the latest addition to Google's campus in Playa Vista, California. The project's architect, ZGF, preserved the design and spirit of the original hangar, while creating a modern workspace for Google and YouTube employees.
A 41,806-m2 (450,000-sf), four-level 'building-within-a-building' was developed inside the seven-story, 229-m (750-ft) long historic wooden structure. Built by Howard Hughes in 1943 for the construction of the Hercules IV airplane (also knowns as the 'Spruce Goose'), the hangar now comprises office, meeting, food service and event spaces, and employee amenity spaces. Located between two existing Google sites, the client sought to unify their Playa Vista campus and bring a fresh perspective to workplace design through the venue's adaptive reuse.
The project demanded extensive restoration of the original wood frame. The new architecture is set within the vast, open volumes of the hangar on either side of its fully restored central spine, that divides the building lengthways and originally housed aviation engineers' offices.
"When Google came to us for a fresh perspective on workplace design within the iconic Spruce Goose hangar, we embarked on a highly iterative and innovative test-and-learn exploration," said Kristi Paulson, principal at ZGF and lead designer on the project. "As an architect, it was empowering to embrace Google's open-conversation approach and respond with rapid ideation. Our design process on this project was nimble, allowing versatility but requiring decisiveness. Together, we have created an intelligent and engaging new office space that acknowledges yet remains independent of its historic envelope."