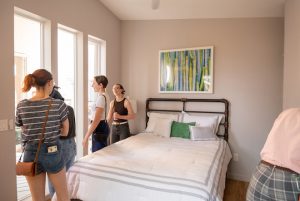 Texas' Rice University's architecture students have introduced their Auxiliary ADU, an accessory dwelling unit in Houston's First Ward.
The ADU was designed by now-alumna Kati Gullick and Madeleine Pelzel, as part of associate professor Andrew Colopy's Totalization studio.
Colopy said 63 students worked on the project, starting with a design process with the help of Rice Architecture's McGregor Computer and Gensler Fabrication labs. Another advantage was having a three-axis computer numerically controlled (CNC) mill in-house, allowing the team to "print" plywood plates to connect the roof and walls at precise angles. These facilitated the roof structure, a tilting surface giving the home's solar panels maximum possible exposure to the sun.
Danny Samuels, a professor in the practice of architecture and longtime RBW and Construct co-director, noted insulation and cladding materials had to be substituted due to supply-chain issues. Foam replaced mineral wool as the primary insulation, while pine became the exterior look to accommodate the budget.
Sponsors also supplied the batteries fed by solar panels, making the house net-positive for energy, based on the complex model students developed to predict usage. Once the building is occupied and real-world data becomes available, they will revisit the model to see how well it performed.
The structure is only 59.5 m2 (640 sf) and the space is split by an outside breezeway (the dogtrot), with a living room and kitchen on one side and a bedroom and bathroom on the other.
"It is both a design-build program and a research arm of Rice Architecture, integrating cutting-edge scholarship in digital fabrication with the delivery of socially minded building prototypes to our Houston communities—in this case, housing, which is so deeply needed in our city," said Igor Marjanović, the William Ward Watkin Dean of the school.
The project, which was underway for three years, is now ready for public viewing.