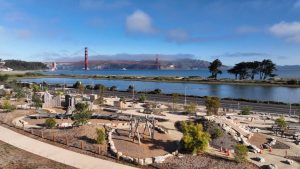 San Francisco's Presidio Tunnel Tops project—a 5.67-ha (14-acre) park built on top of Presidio Parkway tunnels leading to the Golden Gate Bridge—leaned heavily on public input for a community-minded transformation.
The Presidio Parkway, officially opened in 2015, was developed as a replacement for Doyle Drive, built in 1936 to link the Presidio military base to the Golden Gate Bridge.
California-based builder, Swinerton, and James Corner Field Operations, the design firm behind New York's public park The High Line, provided their services for the Presidio Tunnel Tops project, which considered design ideas and input from more than 10,000 people in the Bay Area. The participation came through several ways, such as comment cards dropped in the design lab created for the project, walking tours, ideas submitted to the website, or feedback recorded at the 14 public workshops held in San Francisco's neighborhoods and in the Presidio itself.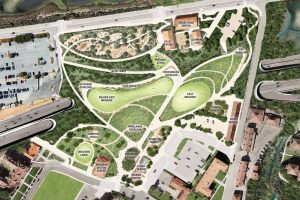 The design and construction firms have used the response from the public to create an area prioritizing natural beauty and history in a fun and family-friendly environment with lots of gathering spaces. For instance, the park's Campfire Circle allows at once 75 visitors to sit around the central gas firepit, and features trees, shrubs, and boulders to protect from wind. There are also multiple trails and paths accessible by everyone.
The area is surrounded by meadows with 180 varieties of plants native to the area. Notably, reclaimed Presidio cypress was used in over 100 hand-crafted Tunnel Tops furnishing elements, including benches, built-in seats, picnic tables, gates, and multiple playground features. In addition, it provided siding for some of the buildings.
Construction work has equipped the area with new buildings including a learning center, outdoor patio, restroom facilities and seismic upgrade for the historic Building 603. The project also includes new roadways, curbs and bus pads, playgrounds, lawn, and picnic venues, viewing terraces and overlooks, and a community amphitheater.