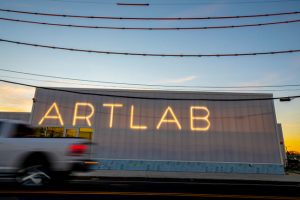 German architect Barkow Leibinger in partnership with Sasaki, have designed ArtLab, a boundary-breaking arts space at Harvard's Allston campus, Massachusetts.
The 836-m2 (9000-sf) structure will host faculty, artists, and students in an interdisciplinary laboratory devoted to creativity, innovation, collaboration, and connection.
The structure has a pinwheel configuration, with studio spaces, sound and recording rooms, a small exhibit area, and a workshop arranged around a 149-m2 (1600-sf) multipurpose, open-space hub that can be used for gatherings, exhibitions, film screenings, dance rehearsals, and more.
The building's name is a nod to the collection of innovation labs already in place in Allston: the Harvard i-lab, the Launch Lab X, and the Pagliuca Harvard Life Lab.
The ArtLab will underscore the importance of offering skilled creators a place to connect with other artists in various fields to reinvent and reimagine, and to conduct the research their respective crafts demand. It also helps show the laboratory—a place for experimentation, observation, and practice in a field of study—is not the domain of the sciences alone.
"Throughout my career I have been seeking to be involved in the process of making new work with a range of artists working in different media," said Bree Edwards, the ArtLab's new director. "There are so few places to show works in progress at Harvard and in Boston in general, which makes the ArtLab truly unique and exciting. It is about making the hidden process visible."