Senior living facility is a lesson in historical restoration
by Erik Missio | November 20, 2015 5:21 pm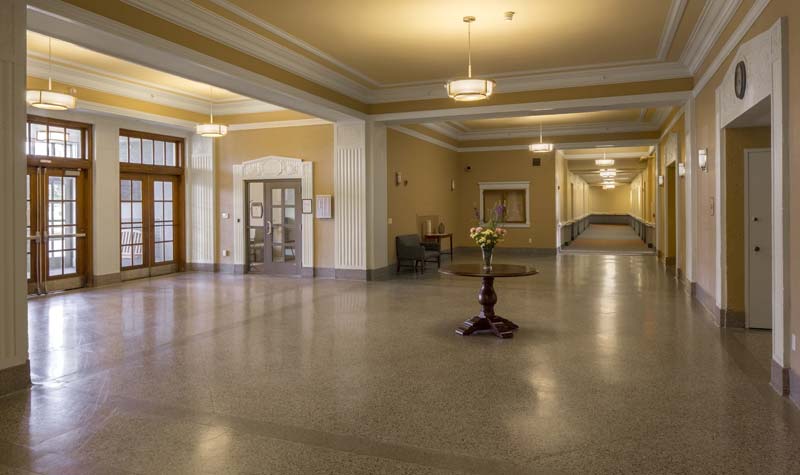 The original terrazzo floor of Livingston Middle School in Albany, New York, greets residents and visitors as they enter the lobby of what is now a seniors residence.
Originally opened in 1932, the four-story, 21,367-m2 (230,000-sf) building was the first large-scale school in Albany. In 2010, however, it was adapted into Livingston School Apartments—a senior living facility featuring 103 units for active over-55 adults, all the while preserving its historical features, says The Architectural Team, a firm in charge of the restoration and conversion.
The project was carried out in partnership with WinnDevelopment, and included $4 million worth of investment by the state of New York, as well as federal historic tax credits. Sixteen of the units are for the visually and hearing impaired.
"We focused our efforts on being sensitive to the original character of the building," says Bob Verrier, vice president and managing principal at The Architectural Team. "This new use and program benefits residents who require an affordable yet highly functional and stimulating residential community, and preserves the legacy of New York's early 20th-century architecture."
The school building is now listed on the National Register of Historic Places.
The restoration project called for preserving a number of the building's interior and exterior features to gain status as a national landmark, including:
interior walls;
original blackboards
crown moldings;
original ceilings;
decorative plaster columns;
plaster walls;
two-story library
clock tower; and
wrought-iron circular stair and mezzanine.
Where feasible, interior design staff preserved and adapted existing features for resident use.
"Our goal was to maintain as many historic details as possible, while updating it to the standards of today's best senior-living environments," said Jim Podesky, a project manager for The Architectural Team.
In addition, the 'age-in-place' homes serve residents' needs as their mobility or sensory capacity changes over time. The units are designed to be adaptable as needed, allowing for the installation of grab bars and other accessibility-enhancing features, such as lowered kitchen cabinets.
Many of the building's distinctive features have also been incorporated as functional or design elements in resident spaces. For example, the design team converted the former school's library into a tenant lounge, reusing the original mezzanine. The 7.6-m (25-ft) high space features tall windows that flood the room with daylight, as well as an original wrought-iron spiral stair kept for heritage purposes.
The building's exterior was also completely restored, a process that included the installation of new shingles for the gambrel-style roof and the addition of replica metal grilles to replace the lost original copper versions.

Endnotes:
[Image]: http://www.constructionspecifier.com/wp-content/uploads/2015/11/lobs.jpg
[Image]: http://www.constructionspecifier.com/wp-content/uploads/2015/11/together.jpg
Source URL: https://www.constructionspecifier.com/senior-living-facility-is-a-lesson-in-historical-restoration/
---