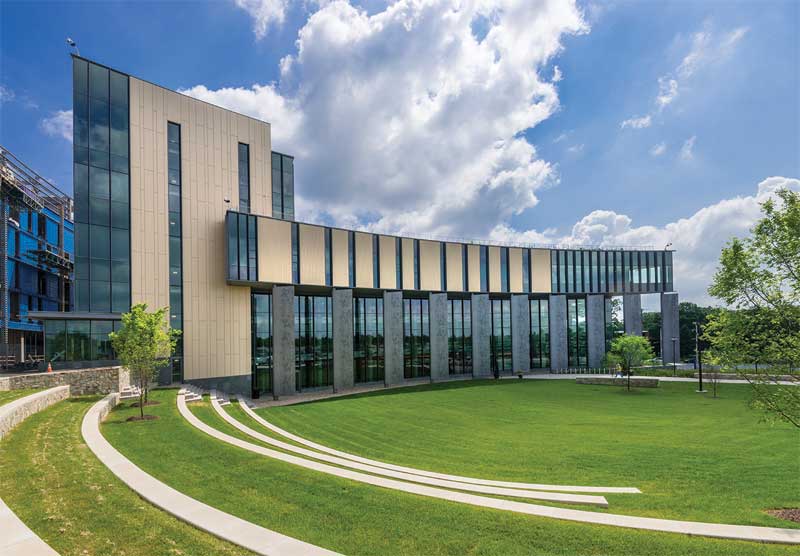 by Stephen J. Scharr, Esq.
Employment of metal rainscreen exterior envelopes in order to keep buildings tight and dry surpassed many barrier wall construction methods in the United States during the last two decades. In spite of the industry's increased focus on metal rainscreens, one can still see design flaws in project detailing.
This article's purpose is to not only highlight the design flexibility and positive attributes of solid metal rainscreen systems, but also help the design team focus on recurring quality issues. Focusing on the subtle nuances of detailing during the management of high-risk areas of a wall system that permit moisture to enter the wall cavity is critical for ensuring a dry and comfortable interior. Controlling moisture in the cavity and mitigating the risk of penetration is a paramount consideration for any successful project.
Advantages with metal rainscreen design
There are many good reasons to choose a metal rainscreen system over a more traditional barrier wall design. Open venting of the space between the primary air barrier and the outer leaf of the façade promotes drying, avoids trapped moisture in the wall cavity, and prevents mold growth. Further, pressure equalization from the wall's exterior minimizes the negative pressures that promote 'sucking,' or capillary action inside the cavity. Metal rainscreen systems prevent the pull of moisture—through defects or tears in the air barrier—into the building's interior.
These systems are also advantageous because installing any water-resistant insulation products outboard of the air barrier increases the continuity of the insulation layer. It also improves thermal performance by limiting heat transfer from the secondary furring system at the thermal layer.
Metal rainscreens can also eliminate the need for exposed exterior sealants and gaskets, which are subject to ultraviolet (UV) degradation, create dirt streaks on exterior façades, and can be costly to maintain.
Design flexibility
For projects of any scale, design visions can be carried out with aluminum, zinc, or stainless steel plates, available in panel sizes exceeding 4.7 m2 (50 sf) per unit or in plank styles as small as 0.18 m2 (2 sf) per unit. (The panels can be 1524 x 6096 mm [60 x 240 in.] or 1823 x 6069 mm [72 x 240 in.]. The plank-styled plates are available from 25 x 610 mm[6 x 24 in.] to 914 x 4572 mm [36 x 180 in.].) Unlike masonry, exterior insulation and finish systems (EIFS), and other materials, solid metal panels do not absorb moisture.
The embossing of textures on rainscreen panels also affords designers an endless finish palette to choose from. The panels can be colored and finished using polyvinylidene fluoride (PVDF) coatings or through anodizing processes and forming techniques to create bold or subtle shadow patterns.
Additionally, a uniform, high-quality air/water barrier system at the drain plane permits the designer to mix and match exterior rainscreen cladding products (e.g. brick, metal, terra cotta, ultra-high performance concrete [UHPC], and fiber cement panels) to achieve a variety of façade textures.