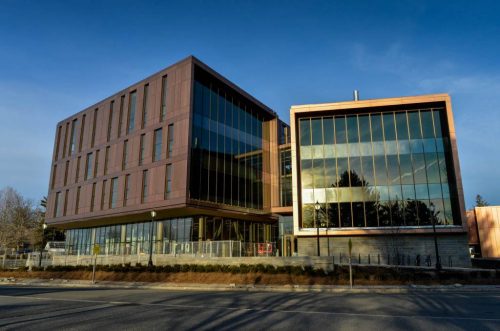 The American Council of Engineering Companies (ACEC) presented Simpson Gumpertz & Heger (SGH) with two accolades at its national Engineering Excellence Awards, held in Washington D.C. The Massachusetts firm was recognized for the Bahá'í Temple of South America, located in Santiago, Chile, as well as the John W. Olver Design Building at the University of Massachusetts (UMass) Amherst.
"We are honored to have two projects recognized among an impressive group of engineering accomplishments," said Charles Russo, CEO of SGH. "The collective skill and talent of our technical teams is showcased in both projects, which featured complex challenges and engineering firsts."
Designed by Toronto firm Hariri Pontarini Architects, Bahá'í Temple of South America, also known as "temple of light," is a house of worship set within foothills of the Andean Mountains. The domed structure features nine wing-shaped translucent "petals" that converge in a central oculus, which, when visitors stand beneath, evokes a feeling of looking through a canopy of trees. Built in a highly active seismic zone, the temple rests on bearings to protect it from earthquakes.
The firm's other winning project, the John W. Olver Design Building, was designed by Boston-based Leers Weinzapfel Associates. The timber-framed building, which unites UMass Amherst's architecture, landscape architecture and regional planning, and building and construction technology programs together in one facility, was designed with a focus on sustainable construction practices.
"The John W. Olver Design Building is the first mass-timber building employing cross-laminated timber on the east coast and an example of the creative use of renewable materials," said Russo.
To read more, click here.