by Robert Svensson
In many ways, exterior lighting is an integral aspect of any design; it often has a transformative and dynamic impact on the role a building, landscape, or façade plays in its community. When employed skillfully, an exterior lighting system can amplify architectural creativity without any significant structural consequences.
The first step in developing an architectural lighting system is to partner with the right experts to become aware of the vast choices and considerations from sustainability to color range, and from performance to compliance. A lighting design professional must demonstrate the true value of lighting to partner architects, showing how it significantly enhances a design, allowing for improved aesthetics with minimal structural compromises.
Close collaboration between lighting and construction professionals is critical in ensuring a mutual understanding of roles, rules, and compliance standards. In the same spirit, partnering with sustainability consultants is essential to the design and implementation of a lighting system that meets a project's green initiatives and manages power consumption rates at an acceptable level.
Additionally, the experience, expertise, and creativity of the lighting designer can help with the ultimate decision, providing valuable insight on budget, equipment, maintenance costs, power consumption, and aesthetics. With this in mind, architectural professionals should also be aware of the fundamentals of exterior lighting.
Overcoming challenges
Exterior lighting presents an array of additional challenges that do not apply to the standard issues faced when specifying an interior lighting system—weather is the most obvious challenge, but placement/access, durability, and lamp lifetime follow closely behind.
Since weather-readiness and general robustness impact performance and reliability, product design, and build quality will be major considerations for architectural professionals. The impact of just one light failing due to humidity, heat, cold, dust, or windblown debris is a massive detriment to overall effectiveness. Even the smallest dark spot is immediately noticeable and detracting.
As exterior architectural lights are understandably placed in areas difficult to access, it is important to ensure they do not require expensive maintenance. Remote diagnostics allowing issues to be diagnosed without product dismantlement can be especially helpful in determining the cause of failure before an expensive lift is required. Additionally, the lamp life of a fixture is an important factor to consider. A fixture's output will deteriorate over time, leading to a loss of lumens and less effective light.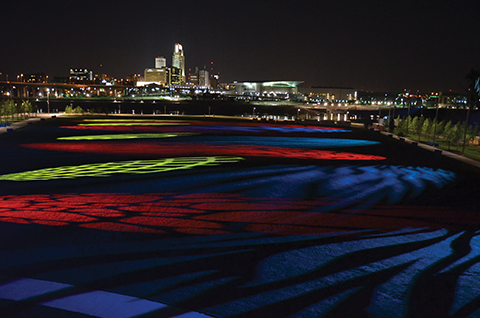 Scale, on the other hand, may be the most compelling opportunity—with an entire building façade (and in some cases, a purpose-designed façade or landscape) as one's canvas, architects have been empowered to create ambitious notable works. Look no further than the New Orleans Super Dome (Louisiana), the Confederation of Danish Industry (Copenhagen), or the iconic Fort Saint Jean (Marseille, France) as examples of how exterior lighting strategies have been integral parts of the overall design and have immediate, notable, and attractive results.
Depending on the neighborhood, building use, and owner's brand position, architects may consider static approach or dynamic assemblies that feature moving lights (known as moving heads) to create automated, synchronized, or even variable shows complementing the building design.
Technology
With exterior lighting systems on display 24/7, selecting lighting technology that is high-performing, reliable, and backed by comprehensive support is critical. The advent of light-emitting diode (LED) technology allows architects to deploy lighting for wash or underwater effects, uplighting walls and columns, as well as illuminating façades and landscapes without compromising sustainability initiatives or architectural integrity. A wide range of lighting hardware and technologies can meet the needs of a dynamic or static environment, depending on design requirements.
Moving head
This type of luminaire is an automated and intelligent lighting fixture that employs a motor to enable physical movement. Moving heads feature a lens train attached to a yoke for quick movements, such as panning and tilting.