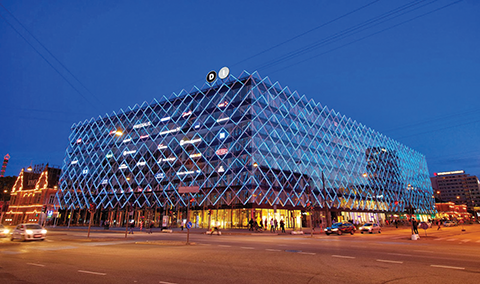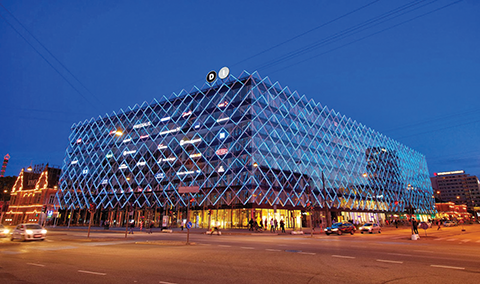 Output
Advances in LED technology has allowed for an increase in light output while maintaining high-efficiency and reliability. When compared with the delivered light output of conventional luminaires that waste significant amountsof light, LEDs often perform better while consuming less energy.
Lumen measurements of fixtures are performed on the entire system—including the light sources (i.e. LEDs) and the housing—and already account for the loss of light due to the housing and lensing. Since LEDs inherently produce saturated color, they do not require gels or color filters to produce colored light, which can significantly decrease a fixture's light output. The efficacy (lumen per watt) output of colored lights is typically superior on LED fixtures. Additionally, LEDs emit their light output in one desired direction (rather than in all, as traditional lighting methods often do)—this allows for greater control and minimal effects on the desired light intensity.
Overall cost of ownership
An accomplished lighting design partner will look for innovation leadership and production quality on the lights as key performance indicators because in addition to system performance, they will also be thinking of overall cost of ownership.
There are several factors to consider when determining the total cost of owning, operating, and maintaining a lighting system. While initial costs might be higher for an LED solution, the lifetime of fixtures is long—often tens of thousands of hours that translates to significantly lower maintenance costs following the initial installation. LEDs consume less energy, saving on power costs and contributing to a building's Leadership in Energy and Environmental Design (LEED) certification status or other green initiatives. (While there are no specific LEED credits earned through exterior lighting, the energy consumed by a lighting design is a major factor in the overall building energy performance on which LEED certification is granted.)
Compliance
All lighting fixtures must comply with regulatory compliance standards, including CE (Europe), UL (United States), and CSA (Canada) approvals. Fixtures approved by safety standards such as UL 1598, Luminaires, will ensure not only legal, but also safe lighting installations. Further documentation such as wind load and IK (i.e. rating of protection for electrical equipment against external mechanical impact) rating for external mechanical impacts is also of importance for safe installations.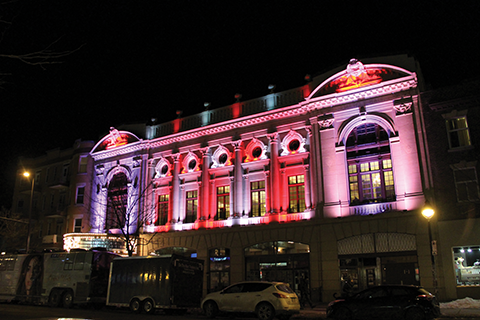 When specifying an architectural lighting solution it is important to be aware of global and local compliance regulations to minimize light pollution. Dark sky requirements may vary depending on state or regional regulations—however, the International Dark-sky Association (IDA) is the recognized industry authority on light pollution. Using snoots or glare shields can be simple but effective methods to control any unintended glare.
Sustainable trends in exterior lighting designs
While lighting generally contributes to the majority of energy consumption and costs, advances in LED technology have made lighting solutions increasingly more efficient and sustainable. Trends suggest the architectural lighting community is utilizing LED technology in new ways to improve its sustainability by integrating lighting into their initial designs, such as a media façade created by using LEDs as pixels rather than traditional means of wash/flood illumination. The industry will see improved efficiency and reduced costs, as LED technology continues to advance and architects continue to push the boundaries of traditional lighting methods.
Increasingly, though at varying levels, architects are integrating exterior lighting into new build plans and for existing buildings, exterior lighting can afford a new look. With an exciting array of digital and LED technologies on the market from a host of proven and emerging technology providers, members of the architectural community have a new opportunity to shed light on their best work.
Robert Svensson is a product manager for the lighting and video install market at Martin Professional. He also has experience with marketing and product management for Johnson Controls and Emerson Climate Technologies, where he has been working in the field of remote monitoring and management of refrigerated containers. Svensson earned his bachelor's of science degree in electronic engineering from Aarhus Teknikum (Denmark) and Fachhochschule Kempten (Germany). He can be reached by e-mail at robert.svensson@harman.com.