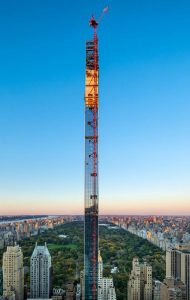 The 111 West 57th Street's residences by SHoP Architects has topped out at 435 m (1428 ft). The tower embraces the classic New York skyscraper and artisan tradition and restores the Steinway Hall, a cultural landmark.
The tower, the second tallest residential building in the Western Hemisphere, features a 91-m (300-ft) decorative steel crown, paying homage to iconic skyscrapers of Manhattan's pre-war Golden Age.
The building design accentuates its setbacks along 57th Street with a series of feathered steps tapering the south façade as it reaches skyward. Each step corresponds with a layer of terra cotta pilasters cladding the east and west façades. The façade is designed to be viewed from multiple scales and vantage points: terra cotta panels with 22 different sets of contours create a play of shadow and light from the city scale, while their glazed finish contrasts with decorative bronze filigree. Inlaid horizontal and vertical bronze mullions accentuate the glass curtain wall with over-sized, floor-to-ceiling panels.
WSP served as the structural engineer for the slender 91-story tower. The building incorporates the highest strength concrete in the world at 14,000 psi (96,526 kPa), paired with over 1.7 million m (5.5 million ft) of rebar. A structural core provides broad floorplates with over 4 m (14 ft) in ceiling height. A large mechanical penthouse houses an 800-ton tuned mass damper to minimize the movement and vibrations of the tower, atop which rests the decorative crown by SHoP that will be clad in terra cotta and bronze.