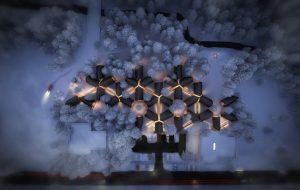 Portland-based Skylab Architecture revealed prefabricated designs for the A-Frame Club, a new hotel concept opening in Winter Park, Colorado, this winter.
The A-Frame Club is a new hotel brand, modern yet nostalgic, taking design cues from 1970s U.S. ski culture and the A-frame cabins of that era. The first club will consist of 31 newly constructed cabins along with a bar and restaurant in a historic saloon building in the Old Town neighborhood of Winter Park. Situated on a 1-ha (2-acre) wooded site adjacent to the Fraser River, the standalone cabins will be nestled among mature pine trees and connected by a network of boardwalks.
The cabins will each be 42 m2 (450 sf) and include a main floor living room, entry, bathroom, kitchenette, and lofted bedroom. Each cabin will be equipped with custom Malm fireplaces and vintage furnishings. Walls will be lined with warm-toned cedar panels and custom millwork. Set on low piers, each cabin will be elevated above the ground to enhance views and decrease the footprint on the land. Tall glass windows allow natural light to permeate and highlight mountain vistas.
"The concept behind A-Frame Club is to provide a modern take on A-frame ski lodging while touching lightly on the land," Skylab architectural said. "All the cabins and walkways are elevated to maintain the trees and natural watershed of the site."
"The design pushes beyond the tradition of Colorado ski hut lodging by embracing sustainability and contemporary prefabrication strategies," said Skylab in a press release.
The project also includes an 854-m2 (9190-sf) central gathering venue for guests and locals called the Lodge. A variety of experiential zones will be created for a mix of drinking, eating, socializing, and working. The Lodge is curated with tongue-in-cheek novelty and a mid-century vibe, a space both classic and novel.
The A-Frame Club is expected to be completed for the 2021/2022 winter season.