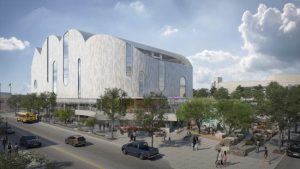 Snøhetta and the El Paso Children's Museum unveiled the final designs of the new light-filled, lofty, and playful museum in the heart of the city during a ground breaking at the museum's location in downtown El Paso, Texas.
The historic unveiling is the latest milestone for El Paso's first purpose-built children's museum, a special project of the El Paso Community Foundation, the City of El Paso, and other community stakeholders.
The architecture reveals itself as a cloud, floating above the desert connecting all people in this place, young and old alike. The new museum aims to become a civic classroom and energy point for the region's families, designed to maximize open-ended and imaginative play and exploration. Snøhetta's design considers how the museum itself can become a learning tool. With spaces and exhibitions that inspire the imagination of both children and adults, the museum celebrates the unique culture and geography of El Paso while providing barrier-free access to educational opportunities.
The four-story, 6503-m2 (70,000-sf) museum is positioned within the heart of El Paso's Downtown Arts district, close to the San Jacinto plaza and less than 1 km (0.6 mi) from El Paso del Norte, a major border-crossing station.
The building's unique geometries set it apart in the city's skyline: the rectilinear base is wrapped in glass, providing interior views to entice passersby to stop inside the public lobby, and is topped by a rippling succession of barrel vaults which soar to a cloud-like crown.
Snøhetta partnered with El Paso architects Exigo, and is working with Gyroscope who is designing the exhibitions for the museum.