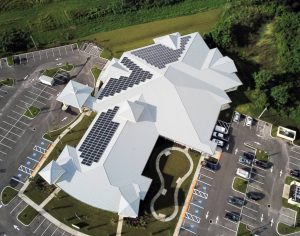 The state-of-the-art Riverview Branch Library in Riverview, Florida, won the first-place award for the commercial roofs category in Academic Technology Approval Scheme (ATAS) International's 2020 project of the year competition.
Standing seam metal roof panels, manufactured by ATAS in .040 aluminum, were installed on this new library. The panels, with a 51-mm (2-in.) seam height and 387-mm (15.25-in.) panel width, were mechanically seamed, followed by the installation of photovoltaic panels. The panel is a double-locked structural panel that can meet severe load requirements.
The contractor, Alpha Roofing and Sheet Metal of Orlando, Florida, installed a total of 4113 m2 (44,276 sf) of standing seam metal roof panels, which included some tapered panels. Tapering panels in the factory ensures quality and dimensional accuracy, as well as easier installation in the field. The metal roofing was purchased through Beacon Building Products of Orlando, Florida.
Standing seam metal roofing is an ideal choice for solar systems due to its long service life.  When installing a crystalline system, which is typically warranted for 25 years of power generation, a building owner benefits from a roofing substrate that has a greater life expectancy than the solar panels.
Standing seam metal panels also provide a natural platform for attaching crystalline systems without any roof penetrations, using clamps that attach to the panel seams. Additionally, highly reflective roofs with cooler rooftop temperatures result in better performance of the solar panels.
The 3251.6-m2 (35,000-sf) Riverview Branch Library was designed in old Florida grandeur style by FleischmanGarcia Architecture of Tampa, Florida. Ken Zuker, senior associate with FleischmanGarcia Architecture, stated, "The county commissioner dictated a sloped roof for this building, because it's a county building with an expected life span of 50 to 60 years, a metal roof was the obvious choice. Since 340 solar panels were going to be installed on the roof, we chose aluminum for the metal substrate due to its longevity."