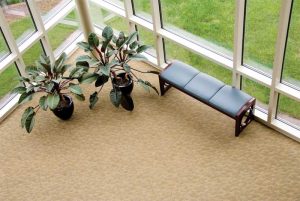 by Tammy Schroeder
Building owners, facility managers, architects, specifiers, product manufacturers, and tenants are expressing an increased interest in paints and coatings offering microbial control.
Hospitals and clinics, schools and universities, government centers and office towers, hotels and hospitality venues, retail stores, residential high-rises, and senior living facilities include a myriad of painted or coated surfaces on which microorganisms may survive. The coated surfaces within these high-traffic buildings may include:
handrails, bedrails, faucets, and handles;
partitions between workstations or patient care areas;
interior light shelves and sun shades;
wall cladding and column covers;
window frames; and
canopies, doors, and entry systems.
Most surfaces within commercial and institutional buildings should be cleaned on a regular basis to help prevent the growth of bacteria, mold, and mildew that can cause stains and odors on the surface of a product. However, cleaning alone may not remove the microbes.
Microbes usually are not seen until they have multiplied and are concentrated on a surface. They can break down these surfaces and finishes, and can cause a loss of coating or paint integrity. This microbial growth is perceived as a stain. The stain will continue to expand, using the surface itself as a food source and releasing unpleasant odors, until the microbial population is removed.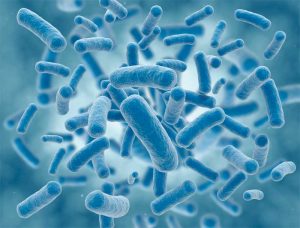 To augment regular cleaning programs, coating technologies containing antimicrobial compounds have been developed to provide an additional level of protection. Antimicrobial compounds can help prevent growth of stain- and odor-causing bacteria to help maintain the integrity of the paint or coating. These coatings may be employed on a wide range of products in high-traffic commercial and institutional buildings, including architectural aluminum products. This article focuses on antimicrobial coatings for architectural aluminum products.
Main microbes
The need for microbial control stems from the fact that there are an estimated 4.5 million bacterial and fungal species throughout the planet, many of which travel and migrate via the ebb and flow of people visiting commercial and institutional buildings. Microbes or microorganisms are living cells that can be detected by the naked eye once they have multiplied to the millions. Under the right conditions, some microbes can double in number every 30 minutes or faster.
Types of microorganisms include bacteria, algae, fungi, and mold.
Bacteria
Billions of years ago, bacteria were among the earliest forms of life on Earth. Bacteria are microscopic, single-cell organisms that are divided into two main groups by virtue of cell wall constitution: Gram-positive, such as Staphylococcus and Methicillin-resistant Staphylococcus aureus (MRSA), and Gram-negative, such as E. coli, Pseudomonas, and Salmonella.