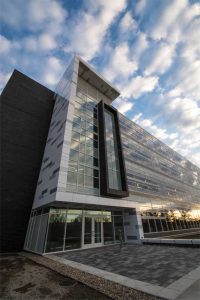 Beyond appearances, curtain wall, storefront, and other fenestration products offer building occupants with natural light, views, and a connection between indoor and outdoor spaces. Operable vents, windows, and doors also enhance natural ventilation. When these attributes are paired with thermal performance considerations, fenestration systems  can contribute to the building's energy efficiency, resiliency, and cost savings, as well as occupant comfort, productivity, and well-being.
The majority of fenestration systems in commercial and institutional construction, including educational buildings, rely on extruded aluminum for the framing material. The advantages of aluminum include:
high strength to weight ratio;
fabrication and design flexibility to create almost any size, and straight and curved shapes;
infinite recyclability;
wide range of finish options;
excellent weatherability properties;
superior structural performance; and
engineering potential to meet thermal performance,
blast mitigation, and hurricane impact resistant criteria.
Code-compliant high performance
The Advance Energy Design Guides (AEDGs) offer recommendations that are aimed at establishing net-zero energy and up to 50 percent energy savings over the American Society of Heating, Refrigeration and Air Conditioning Engineers (ASHRAE) 90.1-2004, Energy Standard For Buildings Except Low-Rise Residential Buildings, minimum levels. AEDGs recommend "Maximize the use of daylighting and controls through side-lighting and top-lighting strategies in spaces that do not have air change requirements. Design a daylighted school. If carefully designed, vertical fenestration and skylights can help provide interior illumination without excessive solar heat gain. Electric lighting systems can be extinguished or dimmed, saving significant energy and maintenance costs," (The Advance Energy Design Guides [AEDGs] represent a partnership between the American Society of Heating, Refrigeration and Air Conditioning Engineers [ASHRAE], the U.S. Green Building Council [USGBC], the Illuminating Engineering Society [IES], the U.S. Department of Energy [DOE], and the American Institute of Architects [AIA]).
Key benefits of educational facilities achieving healthy, high-performance learning environments may include:
increased student cognition;
fewer absences;
reduced energy use and associated emissions and natural resource consumption;
minimized maintenance costs, and associated material and labor costs;
lower overall operating and life-cycle costs; and
improved recognition for sound fiscal management.
UNIVERSITY OF NORTH DAKOTA'S ROBIN HALL
The University of North Dakota's (UND'S) Robin Hall is the headquarters of the unmanned aircraft systems programs at the university's nationally acclaimed John D. Odegard School of Aerospace Sciences. The building's sleek, light-filled design features curtain wall and storefront systems to meet the structure's modern aesthetics, sustainability goals, and performance requirements.

The $22-million, 6689-m2 (72,000-sf) aerospace research facility was designed by Icon Architectural Group. As the tallest building in the Grand Forks area, Robin Hall's base rises five stories, and ascends into a 39-m (127-ft) glass and metal tower at the structure's entrance serving as a beacon for the entire UND campus.

Nearly 929 m2 (10,000 sf) of screw-spline, shear-block curtain wall enclose the tower and lower levels. An additional 130 m2 (1400 sf) of shear-block curtain wall was installed on the northwest corner. Screw-applied pressure bars secure the glass and a cover plate conceals the fasteners. Enhancing the tower's structural performance, 7938 kg (17,500 lb) of steel reinforce the aluminum curtain wall framing members. For added durability, the aluminum is finished in black anodize.

Where curtain wall is not used, 1208 m2 (13,000 sf) of storefront frames the low-rise openings and 33 m2 (360 sf) of interior framing create the vestibule. In total, the aluminum-framed exterior system was fabricated using 1046 m2 (11,261 sf) of ultra-clear, high-performance insulated glass with low-emissivity (low-e) coatings. When backlit at night, it radiates across the campus. During the day time, the interior is brightly illuminated with natural light.

Some unusually shaped, trapezoidal units were necessary to achieve the precise appearance of the tower and the lower concave, segmented wall. These units were pre-glazed in the glazing contractor's facility and then shipped to the jobsite for installation. This reduced the time to install that portion of the building and sheltered other work during the winter construction schedule.

Inside Robin Hall, four floors house a large auditorium, study space, administration offices, classrooms, collaborative learning spaces, and a hangar space for flight testing. The building's basement also includes an open research space with laboratories and simulators. A skywalk directly connects the facility with two other UND aerospace buildings.