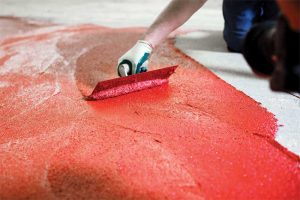 Planning out the specifications
Presuming the specific floor coating products have been identified and developed into the type of floor system needed for the project, it is time to identify critical components of the specification that will help ensure correct installation and avoidance of potential problems.
Substrate preparation
Compared to steel, which is a fairly consistent and predictable substrate, concrete can be very tricky to coat. Its variability from project to project can produce unexpected situations affecting a coating system's bond. For the specifier, there are critical elements of substrate evaluation and surface preparation that, when properly addressed, can help reduce the potential for future coating problems.
Moisture in concrete slabs can lead to issues for all types of floor toppings, which includes coatings. The industry standard of waiting 28 days for new concrete to fully cure before coating is based on the time it generally takes for any free water that has not hydrolyzed with the cement particles to evaporate and escape the concrete.
Unfortunately waiting for new concrete to fully cure does not eliminate moisture-related issues. In fact, old, existing on-grade slabs also pose a challenge because of potentially high MVT conditions. Unless the project is located in the driest of climates, moisture will be present at some level in the soil on which the concrete slab is resting. Today, it is common practice to install a vapor barrier prior to concrete placement to prevent moisture from transmitting from the soil through the slab, but this is rarely the case with older slabs. Additionally, it is difficult to determine the presence or absence of a vapor barrier under an existing slab. Therefore, testing the slab prior to coating application is a key to avoiding future problems.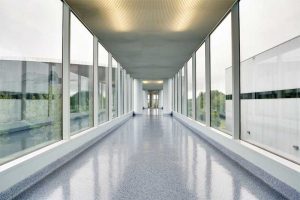 Testing for moisture
The most basic test is ASTM D4263-05, Standard Test Method for Indicating Moisture in Concrete by the Plastic Sheet Method. Called the Plastic Sheet Method, it involves taping a 457 x 457-mm (18 x-18 in.) square plastic sheet to the concrete floor and waiting at least 24 hours before removing it. (A heat source, such as an incandescent lamp, is sometimes placed close to the plastic sheet to help promote moisture migration). Once the plastic sheet is removed, the concrete is inspected for darkening or other signs of moisture. Although this test has existed for decades and is still used, most flooring manufacturers do not favor its use due to several flaws. First, it does not quantify the amount of moisture; it simply indicates whether or not moisture is present. Second, it only detects moisture in the upper portion of the slab, not in the middle or lower areas where moisture is more apt to reside.
The Calcium Chloride Test, per ASTM F1869-11, Standard Test Method for Measuring Moisture Vapor Emission Rate of Concrete Subfloor Using Anhydrous Calcium Chloride, is a better test because it provides a quantifiable result. For this test, a calcium chloride disk is placed under a sealed plastic sheet and left to collect moisture vapor. After 24 hours, the disk is retrieved and weighed, and compared to the disk's pretest weight. This weight difference indicates how much moisture vapor has emerged from the slab in 24 hours.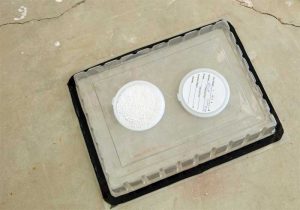 A more recent test providing the most complete data is ASTM F2170-11, Standard Test Method for Determining Relative Humidity in Concrete Floor Slabs Using in situ Probes. This method requires holes to be drilled into the concrete and a humidity probe inserted at 40 percent of its total depth. The quantitative result and the measurement within the middle of the slab make this test a more accurate and reliable way to measure MVT.
It is important to note results from all three tests are limited to a particular time period and may not reflect seasonal or unusual environmental conditions. Additionally, it is recommended to conduct concrete moisture tests after the building's HVAC system has operated for at least 48 hours.
Floor coatings will have varying tolerance to moisture vapor levels, and this should be reflected on the product data sheet. As a general rule, moisture vapor transmission rates should not exceed 1.3 kg (3 lb)/24 hrs or 75 to 80 percent relative humidity (RH) for most conventional floor primers. However, there are specialty primers and floor toppings designed specifically for higher MVT rates, up to 9 kg (20 lb)/24 hrs, and up to 99 percent RH.