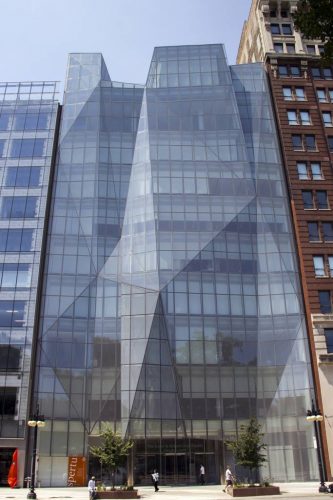 The Illinois Council of the American Institute of Architects (AIA Illinois) has named educational center Spertus Institute for Jewish Learning and Leadership, designed by Chicago-based Krueck + Sexton Architects, one of Illinois' 200 Great Places. The list, compiled by a selection committee of architects and officials, commemorates the bicentennial of Illinois statehood.
"We are delighted Spertus Institute has been selected for this honor," said Mark Sexton, founding principal at Krueck + Sexton. "We created the building's design to reflect the innovation of the space, Spertus' programs, and the people that occupy the building. The architecture truly reflects Spertus Institute's open-to-all mission. The building was designed for the people."
The recognition comes ten years after the institute opened its current headquarters on Chicago's Michigan Avenue. The facility includes inter-connected classrooms, a theater, exhibition space, and a library. Additionally, the building features a 10-story faceted wall of fritted windows, composed of 726 individual pieces of glass in 556 different shapes, which offers views of the Chicago skyline, as well as neighboring Grant Park and Lake Michigan.
"The wall of glass, with sections folding in and out from the vertical plane like origami, stands dramatically apart from its predominantly masonry neighbors on Michigan Avenue," reads AIA Illinois' website.
The institute has achieved Leadership in Energy and Environmental Design (LEED) Silver certification under the U.S. Green Building Council (USGBC). This feat was accomplished through implementation of variety of sustainable measures, including computer-controlled lighting and HVAC systems to reduce energy consumption, the use of low- or no-volatile organic compound (VOC) paints/building materials, and a 622-m2 (6700-sf) vegetative roof, which manages storm water, absorbs air pollution, and helps cool the building in the summer.
AIA Illinois' 200 Great Places celebrates a variety of projects from across the state, including public parks, museums, universities/colleges, and historic districts/sites. The list celebrates the work of individual architects, as well as urban planners and designers, landscape architects, and local builders.
"Separately and in total, our 200 Great Places are more than just examples of good or even great design—they are a testament to humanity's need to shape their environment in a way that is often both pleasing and thought-provoking," said Kim Kurtenbach, AIA, 2018 AIA Illinois board president.
To view the full list, click here.