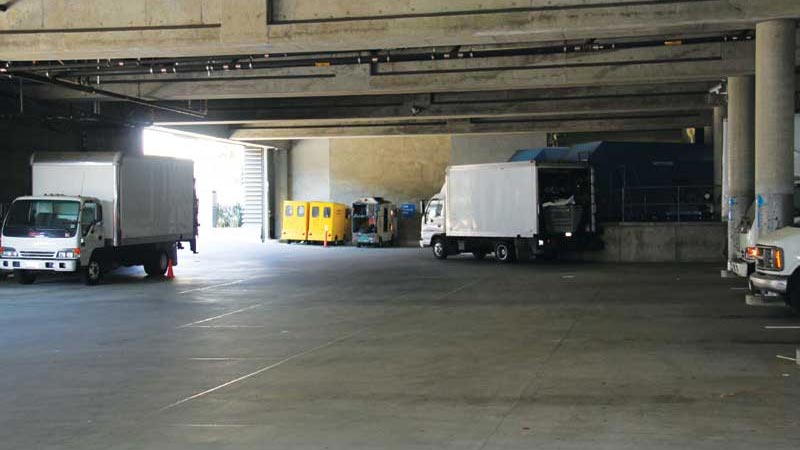 by Lyn S. Kent, AIA, John F. Sumnicht, SE, and Daniel G. Gibbons, PE
Designers of commercial and institutional buildings in urban settings often work on constrained sites where the service areas exposed to weather or wash-down are located over occupied spaces below. While the requirements to protect these spaces from water intrusion are understood and documented, this is not the case for the wearing surface over the waterproofing system, especially when it comes to loading docks and other high-load traffic environments.
There are several wearing surfaces that can be used over waterproofing installations, but a concrete topping slab is often the best protection for high-traffic service areas as it can take the abuse and heavy loads. Further, the material is fairly easy to maintain, provided cracks in the slab are minimized.
In split-slab applications, the most reliable waterproofing membrane assemblies form a long-term watertight seal over the structural slab substrate. This type of system typically consists of a layering of components such as a waterproofing membrane, a protection layer, and a drainage layer. However, since these systems are compressible, the concrete topping slab must be designed to be placed over top.
The goal is for the topping slab to perform with limited cracking when subjected to the waterproofing system's inherent compressibility. In high-load traffic environments, concrete topping slabs must be designed to compensate for the non-rigid substrate.
Drawing on the authors' experience, this article presents a topping slab design method for waterproofing installations proven successful in high-load traffic environments. It also offers a case study of a successful topping slab installation at a truck loading dock for a large medical campus that has withstood the abuse of a high-load traffic environment, and has been crack-free for more than eight years.
Design challenges
Many waterproofing systems—loose-laid, adhered, or a combination thereof—have performed well in split-slab waterproofing installations. These assemblies are multi-layered and include, at a minimum, the waterproofing membrane, a protection layer, and a drainage layer. Sometimes, an additional layer may be needed for leveling irregularities in the concrete structural slab. Waterproofing layers are also typically included at the terminations for the perimeter walls, penetrations through the waterproofing for drains, and transitions to building elements (e.g. dock apron and stairways).
To protect the structure and the occupied spaces below, the waterproofing membrane—whether fluid-applied or a sheet product—must be flexible enough to tolerate movement in the structural slab. This movement can be the result of structural loads imposed on the topping slab and variations in temperature and moisture content.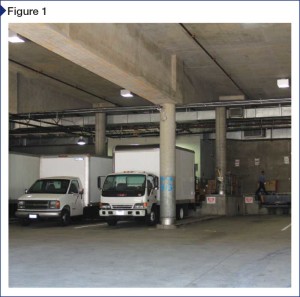 The protection layer is often a 3.2 to 6.4 mm (1/8 to 1/4 in.) thick asphalt-impregnated board, or a sheet product sufficiently durable and puncture-resistant to handle construction traffic on the layer. The drainage layer is typically a prefabricated composite panel—a three-dimensional high-strength and impact-resistant polypropylene core with a woven geotextile fabric bonded to the top side.
The panel is designed to allow the concrete topping to be placed directly atop without compressing the polypropylene core. The fabric provides a barrier to the concrete, but allows water seeping through the topping slab to pass freely into the drain core. The structural slab is sloped to bi-level drains, allowing both surface water and under-slab seepage water to discharge.
The compressibility of these layers can be a challenge because there are no direct guidelines to address this condition in concrete slab design manuals. The two main industry standards are:
American Concrete Institute (ACI) 302.1R-04, Guide for Concrete Floor and Slab Construction; and
Portland Cement Association's (PCA's) Concrete Floors on Ground, by Scott Tarr and James Farny (2008, fourth edition).
These guides include sections on both bonded and unbonded topping slabs. A topping slab placed over a waterproofing system falls into the latter category because the waterproofing system prevents direct bond between the two. For unbonded topping slabs, the reference guides recommend a bond-breaker material—such as plastic sheeting or 'waterproofing paper'—placed between the topping and structural slabs to prevent their direct bonding.