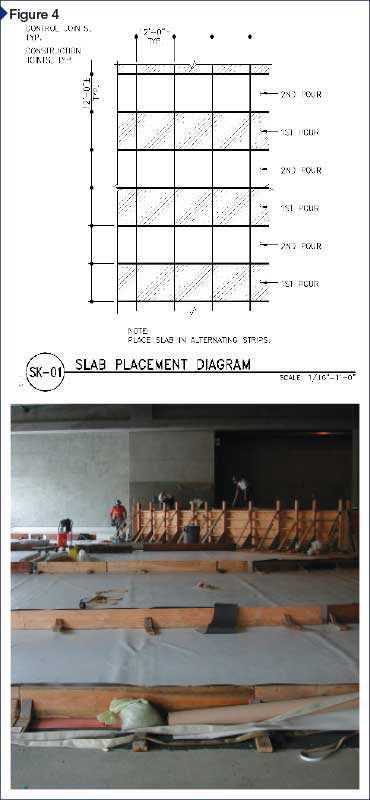 Assuming a tire pressure of 690 kPa (100 psi), and distribution of this pressure over an area larger than the tire footprint, the average stress to which the waterproofing will be subjected is in the range of about 275 to 415 kPa (40 to 60 psi). Therefore, the segment of the load/deformation graph of particular interest is the lower, nearly straight, Segment A. From the graph, one can calculate the equivalent modulus of subgrade reaction at about 11 g/mm3 (400 pci)—equivalent to a very good soil substrate. This value is used to establish the slab thickness using the vehicle loading graphs in PCA's Concrete Floors on Ground.
As noted, the primary concern with slab-on-grade designs is the potential curling of slab edges and corners and concrete drying shrinkage. To address this, the topping slab design for this project included the provisions listed in the following sections.
Jointing and pour configuration
Joint spacing was limited to 3.7 m (12 ft) on center (oc) for both construction and control joints. However, in the actual installation, the control joints were approximately 3 m (10 ft) oc. The construction and control joints were detailed and installed to account for the heavy wheel loads and to allow unrestrained shrinkage between the joints. This was accomplished by placing the slab in alternating strips (Figure 4, page 26) with greased dowels at all the joints and stopping the slab reinforcement 76.2 mm (3 in.) from the joint on both sides (Figure 5, page 28). The joints were also filled to minimize spalling.
Limiting drying shrinkage of mix
The water/cement (w/c) ratio was held to a maximum of 0.48. A shrinkage-reducing admixture was added to provide a low-shrinkage concrete.
Slab curing
The slab was water-cured for seven days. (There are several industry-standard water-curing methods from which to choose.) Although a specific curing method was not mandated, the design required the curing begin immediately after final finishing of the slab.
Early use of slab
The slab is fragile early in its life. Therefore, vehicles were required to be kept off it for the first two weeks. Between 14 and 28 days, traffic was limited to light vehicles such as passenger cars and light pickup trucks. After 28 days, normal use was allowed.
Conclusion
Designing concrete topping slabs for split-slab waterproofing applications in high-load traffic environments can be challenging. Consequently, it demands careful consideration by the design professional. Failure to account for the compressible layers of the waterproofing system will likely cause flexural cracking in the topping slab, affecting the ultimate performance.
This article provides a means to account for the waterproofing system's compressibility in the design of the topping slab, and should be considered in conjunction with industry-standard guidelines of vehicle loads for slabs-on-grade.
Following these recommendations will not eliminate concrete cracking, but rather allow the cracks to be controlled at the slab joints where they can be hidden from view and prevented from adversely affecting the slab's long-term performance.
Lyn S. Kent, AIA, is a senior project manager at national engineering firm, Simpson Gumpertz & Heger (SGH). A licensed architect for 28 years, her expertise includes design and construction contract administration of building envelope components for major hospital, commercial, and educational buildings. She can be contacted via e-mail at lkent@sgh.com.
John F. Sumnicht, SE, is a senior principal at SGH. Along with experience in the design and retrofit of buildings and other structures, he has extensive experience in the seismic rehabilitation of existing structures, including investigation of topping slab failures. Sumnicht can be contacted at jfsumnicht@sgh.com.
Daniel G. Gibbons, PE, is an associate principal at SGH. He has experience in the investigation and design of commercial, institutional, and residential buildings for waterproofing issues, including roofs, plaza areas, below-grade spaces, and exterior walls. Gibbons can be reached at dggibbons@sgh.com.