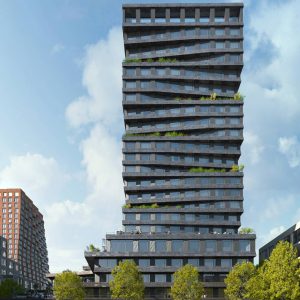 Located at the heart of Mission Rock, an upcoming mixed-use waterfront development in San Francisco, Studio Gang's Building F is designed to become the new neighborhood's social hub and central community gathering space.
Reinterpreting the typical tower podium, the 29,265-m2 (315,000-sf) building's base is carved with steps leading up to a mesa-like space with sunny planted terraces and raked seating. The terraces offer views of the activity in the public square below. At ground level, shops and cafés bring their own unique character to the storefront, further contributing to the neighborhood's lively public realm.
The sculpting strategy continues up the tower, where floorplates are carved back at the corners to create comfortable outdoor terraces that complement San Francisco's indoor-outdoor lifestyle. Oriented and shaped to maximize sunlight and minimize wind, as well as provide great views of the surrounding city and the bay, the terraces continue the 'social topography' begun at the mesa. People will be able to relate to the scale of the building due to the careful attention paid to its terraces, the varying depths of the façade, and the building's materiality. Clad in terra cotta tile with slight variations in color and a suite of different profiles, both the design and the details bring a human dimension to the architecture.
At the tower's top, residents can relax, socialize, and enjoy skyline views of Oracle Park and the San Francisco bay among the lively sky garden. This garden's regionally appropriate plant scape creates an attractive place for birds, butterflies, and other pollinators to visit, supporting healthy bio-diversity within city.
Quezada Architecture is the associate architect on this project.
"Building F will be at the heart of Mission Rock, housing amenities for the entire neighborhood that overlook a new public plaza and vibrant streetscape. For the residences, we designed a tower inscribed with terraces, extending this indoor-outdoor living and offering views amidst elevated bio-diverse gardens," said Jeanne Gang, founding partner of Studio Gang.