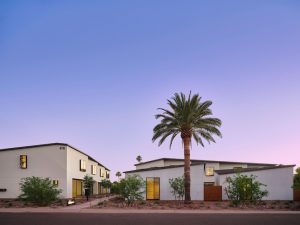 Studio Ma has completed their much-anticipated The Hollyhock residential complex, a more sustainable and denser housing project, in Phoenix, Arizona.
The modern, comfortable, and sophisticated collection of 11 townhouses connected by walkable, neighborly courtyards is a speculative infill multifamily housing development in the architecturally noteworthy Arcadia neighborhood of Phoenix. The one- and two-story living units are organized around private gardens, lush walkways, and a community commons, yet occupy a compact built footprint of just under 1208 m2 (13,000 sf).
The Hollyhock debuts a number of the super-green, sustainable building techniques. The project also embodies one of Studio Ma's core values, "leadership through partnership," by drawing on close collaboration with general contractor The Construction Zone on behalf of the developer, Hollyhock LLC, a brother-and-sister-owned small business based in Phoenix.
"Together, the team pledged to create a unique rental offering of exceptionally high value, incorporating market-leading aesthetics, functionality, and performance for this long-term family investment," said architect Christopher Alt, R.A., a founding principal of Studio Ma.  "Central to the concept is sophisticated architectural details and quality rarely seen in apartments in any market."
In terms of sustainability, the new residential buildings are designed for exceptional insulation, energy efficiency, and low water use, for example, while taking advantage of the region's sunlight and prevailing breezes to boost comfort and reduce operating costs. The material palette includes high-performance low-emissivity (low-e) glass, insulated faux stucco, galvanized metal, natural woods, and cooling, exposed concrete floors. The long-lifespan palette is economical and environmentally sound, and the natural woods and metals reduce carbon emissions associated with typical construction.
"The elevated urban design, character, and environment achieved by Studio Ma creates a small 'village' aesthetic while masterfully prioritizing privacy, views, and open floorplans," said Marianne Cracchiolo-Mago, partner, Hollyhock Apartments LLC. "We could not be happier, the results are stunning, and the design maximized the property's potential."
According to Alt, the landscaping is predominantly xeriscape, requiring little irrigation. A new parking shade canopy is designed for the future addition of solar photovoltaic (PV) panels, with charging stations for electric vehicles. The Hollyhock also adopts principles of the Living Building Challenge standard, such as valuable quality-of-life features including water filtration to remove calcium and provide better drinking water for residents and protect plumbing fixtures.