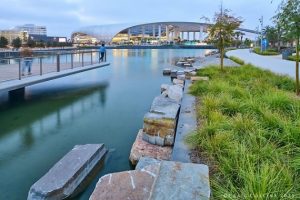 Studio-MLA's new landscape design is the centrepiece for SoFi Stadium and Lake Park at Hollywood Park in Inglewood, California.
The 117 ha (298 acre) sports and entertainment destination has indoor-outdoor, year-round access to 10 ha (25 acres) of public open space.
The project is designed to be a community amenity, incorporating green infrastructure and stormwater management strategies. The design team included Studio-MLA, HKS Architects, PACE Engineering, Walter P Moore, Fluidity, and David Evans and Associates.
Over recent months, SoFi Stadium has been included in an exhibit by Cooper Hewitt, Smithsonian Design Museum, after Studio-MLA received the museum's 2021 National Design Award in Landscape Architecture.
The state-of-the-art stadium will host a variety of events year-round, including Super Bowl LVI in 2022, the College Football Championship Game in 2023, and the opening and closing ceremonies of the Olympic Games in 2028. The first of these events, Super Bowl LVI, will take place on Sunday, February 13.