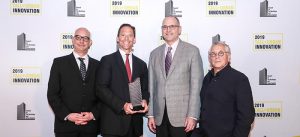 The Council on Tall Buildings and Urban Habitat (CTBUH) has launched its 2020 annual awards program. The organization will accept nominations for tall building and urban habitat projects across a multitude of categories and disciplines.
The awards recognize projects and individuals that have made extraordinary contributions to the advancement of tall buildings and the urban environment, and that achieve sustainability at the highest and broadest level.
A panel of experts will judge the submissions based on category. Awards will be given for 'Best Tall Building', urban habitat, innovation, renovation, interior space, construction, and engineering.
"In addition to being recognized for their contributions to their city skyline, these buildings are also awarded for their efforts to make their urban habitat a sustainable, human-centric place," said Karl Fender, CTBUH awards chair. "I look forward to seeing what this year's nominees have accomplished."
Buildings highlighted are often not the tallest in a given year but represent the best qualities and innovations in the typology. The 2019 top honor of 'Best Tall Building Worldwide' went to the Salesforce Tower in San Francisco, California.
The submission period closes on September 30. The winners are chosen at the annual Tall + Urban Innovation Conference in April 2020 in Chicago, Illinois.