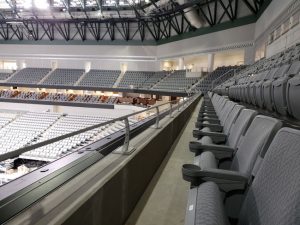 The Dickies Arena in Fort Worth, Texas, is the city's new crown jewel and go-to destination for sports, concerts, and major events. At 69,677 m2 (750,000 sf), the multipurpose venue features 14,000 linear feet of custom architectural railings designed to enhance the accessibility, safety, and overall fan experience inside and outside the arena.
Designed by HKS and David M. Schwarz, the railings complement the building's Art Deco style, most prominent on the stairs, balconies, and pedestrian bridge. Iconic prairie motifs are incorporated in the metalwork and railings as well. Railing types include picket, cable, guardrail, light-emitting diode (LED) handrail, and glass railing.
To further add to the Art Deco design of the arena, friezes and grillwork panels of the Lone Star State's native prairie grasses are incorporated into the custom-designed balcony guardrails. Also, at the building's exterior are bi-color painted guardrails flanking the pedestrian bridge, which connects the arena to the garage.
A highlight of this project are the octagonal and helical spiral staircases, where the engineering team utilized 3D laser scanning technology to design and fabricate the unique dimensions of the guardrail system affording elegant, European-inspired, floor-to-ceiling views.
Adding to the upscale décor of the North Club, glass was used as front-of-seat railing to create an open feel and clear views. Curved post guardrails offer unobstructed views and plenty of space overlooking the action below.
Track rail with 19 mm (¾ in.) tempered/laminated interlayer glass lines a section of the North Club, adding style and luxury to the space.
Railing with stainless steel cables can be found in front of fan seating areas, allowing for minimal sightline obstruction. Grip rail provides a graspable metal handrail in between aisles. LED handrails found on exterior stairs add a touch of modernity to the building, while also serving an important safety function.