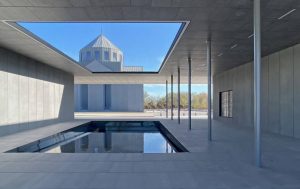 Working with long-time collaborator Stepan Terzyan, New York architect David Hotson, AIA, developed the new Saint Sarkis Armenian Church in Carrollton, Texas. Its design combines Armenia's ancient architectural and artistic traditions with contemporary digital design and fabrication technologies.
The church exterior, rendered in modern materials, references the monolithic sculptural character of ancient Armenian churches which were constructed entirely of stone. The juxtaposition of the monochrome architecture against the multicolored vegetation, envisioned and implemented by landscape designer Zepur Ohanian, recreates the relationship between monolithic architecture and verdant landscape, typical of ancient Armenian churches.
The total interior floor area for the entire complex is approximately 2973 m2 (32,000 sf). Upon stepping into the church through the memorial facade, visitors emerge into the sanctuary, a composition of light-filled spatial volumes modeled on the interior of the ancient Armenian church, Saint Hripsime. Concave light coves sculpted into the exterior reflect sunlight indirectly, illuminating the interior space.
The doubly curved plaster vaults that shape the interior space were fabricated in glass-fiber-reinforced gypsum directly from the architect's computer model. The interior vaults are smooth and scaleless, with no visible lighting fixtures, air-conditioning registers, or other contemporary technical details.
The church is heated and cooled with a displacement climate control system which introduces conditioned air at low velocity through floor registers located under the pews. The result is a silent interior, without any mechanical vibration or the ambient sound of a conventional high-velocity air-conditioning system.
The church celebrated its first Sunday service on April 24, 2022, the annual date on which the international Armenian Diaspora memorializes the 1.5 million victims of the 1915 Armenian Genocide.