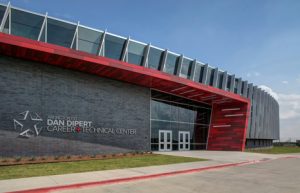 Celebrating the beginning of its second academic year, the Dan Dipert Career + Technical Center (CTC) serves approximately 2400 students from across the Arlington Independent School District (AISD) in Texas. Designed by VLK Architects, CTC incorporates storefront, curtain wall, and entrances systems as well as custom sun shades—on both the building's exterior and interior—to emphasize transparency and promote collaboration and connection.
Providing real world experiences and skills for high school students, CTC's purpose-built, two-story structure spans 15,775 m2 (169,800 sf) to accommodate programs in 18 specialized academies ranging from culinary arts to robotics. The facility is designed for flexibility to evolve and adapt to changing programs and future areas of interests.
"Collaboration at all levels is the driving force behind the design," said Richard Hunt AIA, LEED AP, project designer with VLK Architects. "Expressive and monumental, the architecture is unique to the neighborhood and city as a whole. The expansive curtain wall, featuring diagonal sun shade fins, serves as a subconscious billboard to passersby. Visitors and students understand they are entering an institution of higher learning and not just another run-of-the-mill high school building."
VLK Architects and the project's glazing contractor Pierce Riverside Glass worked closely to achieve CTC's architectural vision and meet the project's performance requirements.
The entrance system employs durable tie-rod corner construction to withstand continuous use from students, staff, and visitors.
Enhancing the façade's strength and thermal performance, the entrance systems were installed within a flush-glazed framing system suited for low-rise applications. High-performance, low-emissivity (low-e) glass was employed on CTC's storefront and curtain wall systems to block unwanted solar heat and allow in daylight for year-round comfort.
The clear anodized finish on CTC's aluminum systems meets the American Architectural Manufacturers Association (AAMA) 611, Voluntary Specification for Anodized Architectural Aluminum. The finish protects the structural integrity of the aluminum and enhances durability.
Inside CTC, VLK Architects specified an interior flush-glazed framing system. The system's perimeter trim members were pre-applied on one side of the frame opening for fast, simple installation by Pierce Riverside.
"All 18 academies surround a central space fronted with glass to maximize transparency," observed Hunt. "Strolling down the main corridor, one can view students engaging in a variety of skills, from aligning the wheels on a vehicle or operating machines to students styling hair or conducting TV newscasts."
CTC's districtwide facility was funded as part of AISD's $663.1 million bond program approved by voters in 2014. Construction manager Balfour Betty US broke ground in April 2016 and completed the project on schedule for its opening in August 2017. A dedication ceremony followed in February 2018.