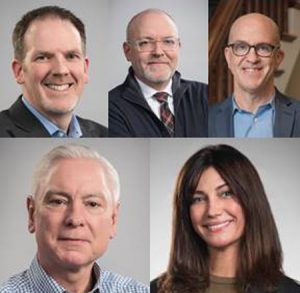 Architecture, planning, and interior design firm, The Architectural Team (TAT), has promoted architects Jay Szymanski, AIA, NCARB, LEED AP, Gary Kane, AIA, NCARB, LEED AP, Edward Bradford, AIA, NCARB, LEED AP, and vice-president of finance, William Moran, as principals. Additionally, Meghann Van Dorn, LEED ID+C, has joined the firm as director of interior design.
With these appointments to its senior decision-making and design teams, TAT seeks to empower a new generation of leaders at an important moment in the firm's history. TAT will celebrate its 50th anniversary next year while continuing its expansion into a broader range of market sectors nationwide, the firm said in a press release.
"We are proud to say that these skilled, passionate professionals have chosen to make their careers at TAT, each contributing to the growth and success of our firm for 20+ years," said Michael D. Binette, AIA, NCARB, senior partner at TAT. "Respected by clients, peers, and colleagues alike, they are exceptionally experienced practitioners, administrators, and mentors, whose presence creates an atmosphere of trust, creativity, and excellence."
Szymanski is a skilled planner and designer of mixed-use, commercial office, market-rate and affordable housing, adaptive reuse, and waterfront projects. He earned a reputation as one of the firm's most versatile architects in his 28 years at TAT, the firm said. Valued for his open and collaborative design approach and seen as a driving force behind many of TAT's complex projects, Szymanski's portfolio includes Bower, a new mixed-use, two-building air-rights development with 312 residential units and 3716 m2 (40,000 sf) of commercial space next to Boston's historic Fenway Park.
Kane's background includes nearly 30 years of planning and design work for adaptive reuse, hospitality, multifamily residential, and assisted living and long-term care projects. Since joining TAT in 1991, Kane has helped lead a diverse array of projects, and has become known as a passionate advocate for architecture's ability to revitalize communities nationwide, TAT said. Kane's current projects include planning and design for the Raffles Boston Back Bay Hotel & Residences, a new 33-story mixed-use tower in Boston, Massachusetts.
Bradford is known for his expertise in housing, hospitality, and master-planning work and for extensive collaborations with many of the country's leading multifamily housing developers. He has played an important role in TAT's continued growth and success since joining the firm in 1991, TAT said. Highlights of his work include numerous award-winning residential communities, such as the redevelopment of a 7-ha (18-acre) former hospital site into Arlington 360, a 200-unit residential campus in Arlington, Massachusetts.
As TAT's vice-president of finance and administration for nearly 10 years, Moran played an instrumental role in the firm's growth, helping shepherd its business operations as it has expanded to comprise a staff of more than 90 people, the firm said. Moran previously served as a leading consultant with professional services firm PwC, as a finance director for design firms including Svigals + Partners in New Haven, Connecticut, and as CFO for venture-backed startups SportsMedicine Systems and Visible Markets.
Van Dorn has nearly 15 years' experience in design and project management for multifamily and single-family residential, institutional, hospitality, and corporate workplace interiors. Known in the field for her creative design vision, her collaborative problem-solving abilities, and her management and business development acumen, Van Dorn's approach accords well with TAT's focus on skillfully meeting client needs, the firm said. With a keen interest in sustainability and end-user wellbeing, she also brings valuable insights on the latest design techniques for environmental benefits, wellness, and mindfulness.