The hazards of traditional wired glass
by Katie Daniel | July 2, 2015 9:55 am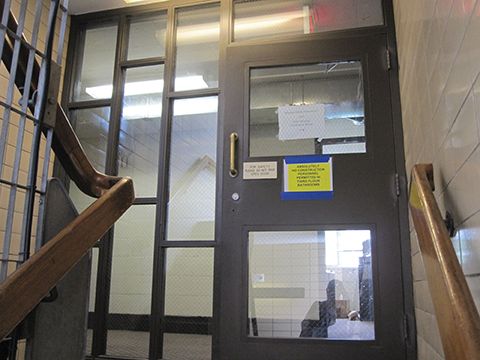 by Lori Greene, CSI, AHC/CDC, CCPR, FDAI
For decades, traditional wired glass—with its crisscrossed wires creating diamonds or squares—was installed in buildings around the world. Thanks to its ability to remain intact even when broken, it was the first and, for years, only form of glazing available for fire door assemblies in schools, hospitals, and other buildings.
Over time, this glazing became known as 'safety glass'—a name that would persist long after it was found to cause severe and often life-threatening injuries when subjected to human impact. Its reputation for safety has been reinforced by its appearance and the common misconception the wire mesh makes the glass stronger. In reality, the exact opposite is true.
The wire mesh actually weakens the glass to such a degree 
it is only half as strong as ordinary annealed glass. To make matters worse, when an adult or child's arm, leg, or other body part projects through the glass due to impact, the initial injury is made significantly worse when the person instinctively pulls his or her injured limb back through the jagged shards of glass held in place by the wires. Severed arteries, nerves, and tendons are common injuries from impact with traditional wired glass.
Nowhere has this type of glass caused more injuries than in schools. In 2002, an epidemiologic study[2] of Consumer Product Safety Commission (CPSC) injury data was conducted by Philip L. Graitcer of Emory University. Of the 2554 glass door injuries that occurred in U.S. schools in a one-year period, Graitcer stated he would "conservatively estimate that 90 percent of the 2500 glass door injuries seen each year
in the CPSC system involved wired glass." This works out to 2250 wired glass injuries in a single year. Taking into account the fact schools are only in session 180 days each year, it works out to a little more than 12 potentially debilitating and life-altering injuries—some resulting in death due to blood loss—every single school day.
Safety glass standards
As early as the 1960s, glass manufacturers recognized the need for industry standards even though building codes remained silent on the subject of safety glazing. A task group was formed and their studies found an average of 320,000 injuries per year from people impacting glass in doors and windows (all building types, including residential). In 1966, the standard developed by this task group was accepted as American National Standards Institute (ANSI) Z97.1, American National Standard for Safety Glazing Materials Used in Buildings.
When the Consumer Product Safety Commission was created in 1972, one of its first initiatives was to address the standards for safety glazing. CPSC 16 Code of Federal Regulations (CFR) Part 1201, Safety Standard for Architectural Glazing Materials, was developed as a two-tiered standard that went beyond the requirements of ANSI Z97.1, and became law in 1977.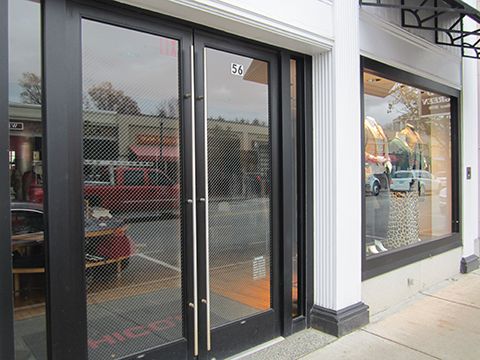 ANSI Z97.1 has since been revised to include three levels of impact-resistance:
Category A (similar to CPSC 16 CFR 1201 Category II);
Category B (similar to Category I); and
Category C (the original Z97.1 standard).
This third category will likely be removed from the next edition of ANSI Z97.1, as it has no equivalent in the CPSC standard. CPSC 16 CFR 1201 Category II and ANSI Z97.1 Category A provide the highest level of impact-resistance required by the safety glazing standards—the category required depends on the size and location of the glazing. ANSI Z97.1 Category C does not protect against human impact except for very young children, and is no longer allowed by the International Building Code (IBC) where safety glazing is required.
Code changes
When the CPSC standard was created, there were no glazing products that met both the impact-resistance and fire-resistance requirements. Traditional wired glass would withstand fire testing, including the hose stream test, but would not hold up to the impacts required by the new safety standard. In 1977, a 2.5-year exemption was granted for wired glass in fire door assemblies to give the glass industry time to develop glazing that met both fire and impact requirements. A court battle between Japanese wired glass manufacturers and CPSC ensued, and the commission was forced to abandon its efforts to regulate the product.
More than 20 years later, the 2000 edition of IBC (as well as the model codes prior) still contained the exception allowing traditional wired glass in fire door assemblies, even though by that time glazing materials—such as glass ceramic, specially tempered glass, and wired glass incorporating an impact-resistant film—had been developed able to withstand both fire and impact.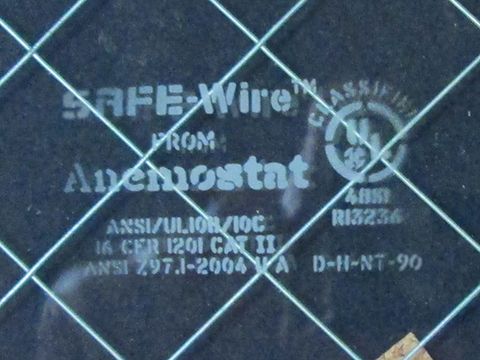 It would take three more years and the efforts of Advocates for Safe Glass[5], led by Greg Abel, whose son had been injured by putting his hand through wired glass in a door, before the 2003 edition of the IBC was changed. Only then was traditional wired glass no longer allowed in any doors or other hazardous locations in 'educational' occupancies (i.e. K−12 schools and daycare centers). The 2006 edition of IBC removed the exception completely, and traditional wired glass is no longer allowed in hazardous locations in any occupancy type when a jurisdiction has adopted an edition of the code dated 2006 or later.
The 2003 edition of IBC also expanded the section addressing "Glazing in Athletic Facilities." In these spaces, glazing that forms whole or partial wall sections, or is used as a door or part of a door, must comply with the safety glazing requirements listed—CPSC 16 CFR, Part 1201, Category II, or ANSI Z97.1 Category A. 
In effect, this section mandates impact-resistant glazing in all gymnasiums, basketball courts, and other athletic facilities.
These requirements have been carried forward in subsequent editions of IBC. Unfortunately, not everyone is aware of this change, and traditional wired glass without an impact-resistance rating is still sometimes specified and/or supplied for new buildings.
Existing glass
As a result of the decades-long delay in changing the code, there are millions of pieces of traditional wired glass in existing doors, sidelites, and windows across the country. Great strides have been made in the effort to raise awareness about the risks of these products, but after years of budget cuts, state and local governments are particularly hard-pressed to find the necessary funds to replace the traditional wired glass in their schools and other public buildings.
However, Safe Glass Solutions (SGS), a firm dedicated
to ensuring the use of safe glazing in public buildings, 
has teamed up with the window film branch of a major glazing manufacturer to address this issue. SGS launched 
a program focused on bringing potentially non-compliant glass in public buildings—both wired and non-wired—up to safe standards.
Having successfully lobbied for the issue to be changed in the 2003 IBC, Abel was hired by SGS to serve as their director of government relations. He said the program's purpose is to provide building owners with a stopgap measure that makes current non-safety glazing products safe until they can be replaced with products complying with the new code.
SGS conducts a building walk-through assessment (often conducted by a network of retired code officials) to document all potential hazards, such as wired glass panels that are at risk of human impact. A safety film is then installed in those hazardous locations. In addition, each finished panel is labeled with a QR tag containing information on its location and date of modification, which is then kept on file by SGS.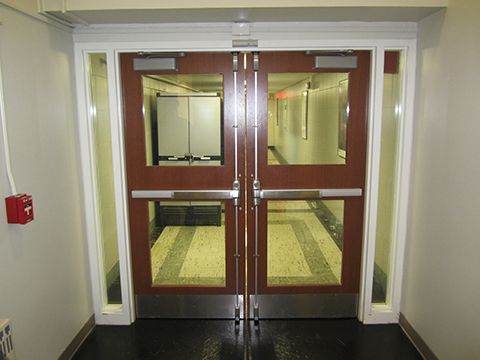 Liability
As expensive as it is to replace wire glass, the cost of not doing so can be significantly higher. Each year, lawsuits stemming from traditional wired glass accidents result in hundreds of thousands of dollars paid to victims whose injuries are often extensive. A Canadian example provides a good case in point.
In 2010, the Toronto District School Board was named in 
a $1 million lawsuit brought by Ravelle Sidial who claimed to have suffered severe injuries when his arm passed through a wired glass door at Lester B. Pearson Collegiate Institute. His injuries included "severed tendons to his right hand and a severed artery," which required surgery and extensive, painful physiotherapy. Many other lawsuits are currently moving through the courts, including a $5 million suit filed against Ontario's Halton Catholic District School Board by student Sean Lloyd, who was severely injured by traditional wired glass in a corridor door.
The Ontario School Boards' Insurance Exchange (OSBIE) compiled a statistical analysis of the risks of injuries, after paying out more than $3 million to settle injury claims. Its report states:
OSBIE receives many reports of incidents and notices of claims with respect to injuries received by students seriously cut through impact with glass. Many of these injuries are caused by wired safety glass in schools. From 1987 to 2000 there have been 107 claims against schools for glass injuries. Over this period, costs related to glass injuries amounted to $3,154,202. More important than the dollars is the pain and suffering, permanent reduced mobility and scarring caused by these impacts with glass.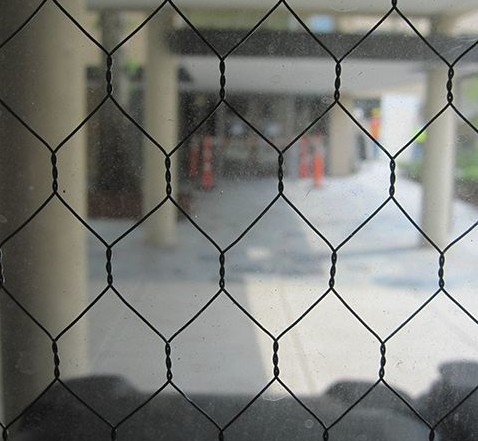 Faced with such an obvious risk for injury and lawsuits, many building owners have already begun to evaluate their existing wired glass, and prioritize the glazing for replacement or the application of a safety film that will increase the impact-resistance. Here in the United States, the city of Eugene, Oregon, opted to proactively replace or retrofit all of the wired glass in their schools.
"After one or two injuries, it became clear it was more cost-effective to change out the old wired glass before it broke than to pay out on a settlement," said Vicki Walter, a retired Oregon senator. "Most importantly, however, our school district valued the safety of its children over the cost savings of cheap, wired glass."
Conclusion
Despite changing the International Building Code and slowly increasing awareness among specifiers, building owners, facility managers, and public officials, there is still much work to be done. There is a growing movement in Canada to prohibit traditional wired glass, but in other countries like Australia, it is still considered to be a form of safety glass; the risks it poses remain largely unaddressed.
The issue was perhaps best summarized by A. Elkin in his testimony as chair of the National Committee on Product Safety:
When your intelligence tells you that something will create an injury and that it seems conceptually clear that injury will occur, it is primitive to wait until a number of people have lost their lives, or sacrificed their limbs, before we attempt to prevent those accidents.
Hazardous Locations
According to the International Building Code (IBC), "hazardous locations" are those most prone to impact from a building occupant. In terms of doors, safety glazing is required for the following hazardous locations:
Additionally, safety glazing is required in many instances when:
i
n close proximity to wet surfaces (e.g. pools, hot tubs, showers, saunas);

in guards and railings; or

adjacent to stairways, landings, and ramps.
The requirements depend on the location of the glass, particularly the height above the walking surface.
Each pane of safety glazing installed in hazardous locations must have a permanent identification mark that includes the manufacturer's designation, the safety glazing standard with which the product complies, and the type and thickness of the glazing. The mark must also include information about the fire resistance characteristics of the glazing when applicable. One should look for the Consumer Product Safety Commission (CPSC) 16 Code of Federal Regulations (CFR) 1201, Safety Standard for Architectural Glazing Materials, or American National Standards Institute (ANSI) Z97.1, American National Standard for Safety Glazing Materials Used in Buildings, designations on the etching or label on the glass to determine if it meets the requirements for impact. There are wired glass products that have achieved the required impact ratings; each piece will be marked with the etching stating the level of impact-resistance.
A suggested list of wired glass locations that should be reviewed, starting with those most prone to human impact includes:
athletic facilities, gymnasiums, and basketball courts;


doors and sidelites that are not fire-rated—traditional wired glass has not been allowed by code in these locations for decades;


doors where the glass is behind or directly adjacent to the hardware, where impact is likely—especially high-traffic doors with closers;

sidelites and large windows; and

fire doors with smaller glass lites not adjacent to the hardware.
*The exceptions to this would be lites in doors where a 76-mm (3-in.) diameter sphere cannot pass through the exposed opening, decorating glazing, glazing used as curved panels in revolving doors, and glazed doors in commercial refrigerated cabinets.
Lori Greene, AHC/CDC, CCPR, FDAI, is the codes and resources manager for Allegion. She has been in the industry for more than 25 years, and used to be a hardware consultant writing specifications. Greene is a member of CSI, the Door and Hardware Institute (DHI), the International Code Council (ICC), the National Fire Protection Association (NFPA), and the Builders Hardware Manufacturers Association (BHMA) Codes and Government Affairs Committee. She has a monthly column on code issues in Doors & Hardware, and blogs at www.iDigHardware.com[9] (or www.iHateHardware.com[10]). Greene can be contacted via e-mail at lori.greene@allegion.com[11].
Endnotes:
[Image]: http://www.constructionspecifier.com/wp-content/uploads/2015/07/Stairwell.jpg
epidemiologic study: http://afsgi.org/graitcer.html
[Image]: http://www.constructionspecifier.com/wp-content/uploads/2015/07/Storefront.jpg
[Image]: http://www.constructionspecifier.com/wp-content/uploads/2015/07/SAFE-Wire-label.jpg
Advocates for Safe Glass: http://www.safeglass.us
[Image]: http://www.constructionspecifier.com/wp-content/uploads/2015/07/Cross-Corridor.jpg
[Image]: http://www.constructionspecifier.com/wp-content/uploads/2015/07/Chicken-Wire.jpg
[Image]: http://www.constructionspecifier.com/wp-content/uploads/2015/07/dreamstime_m_36316006.jpg
www.iDigHardware.com: http://www.iDigHardware.com
www.iHateHardware.com: http://www.iHateHardware.com
lori.greene@allegion.com: mailto:lori.greene@allegion.com
Source URL: https://www.constructionspecifier.com/the-hazards-of-traditional-wired-glass/
---