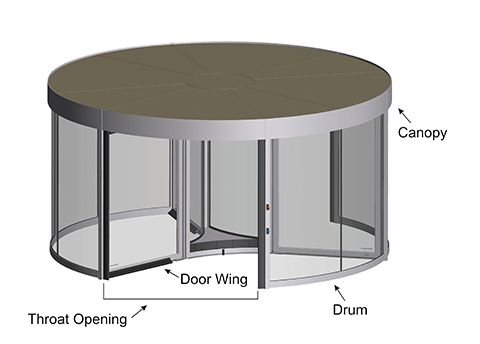 Key elements of revolving door design
A building's entrance is its calling card—its first contact with visitors—and its design is a key element to its success. To specify the right revolving door for a given project, several factors must be considered.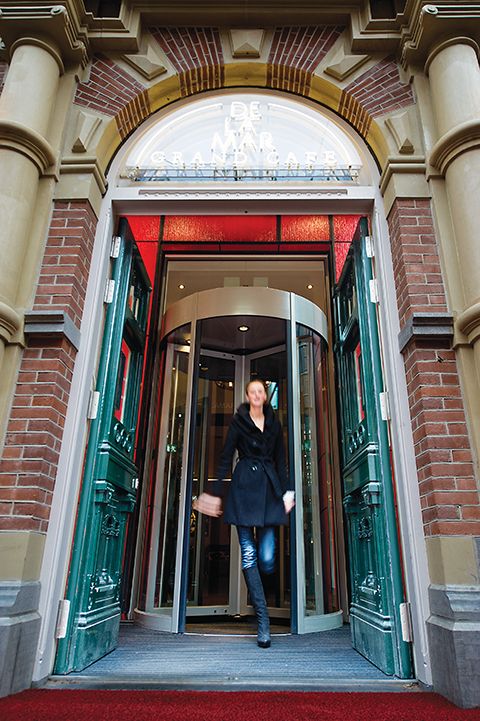 Façade
Revolving doors are an opportunity to enhance the drama of a building façade. Today's all-glass façades are the most popular building design and have virtually universal aesthetic appeal. Available in a wide variety of heights and widths with different canopy heights and heights under the canopy, an all-glass revolving door complements the appeal of a glass façade.
Minimal stainless steel trim and patch fittings contribute to a clean, sleek look. However, it is critical to note that all-glass revolving doors are typically manually operated in the USA. This is because automatic doors require safety sensors on the door wings per ANSI/BHMA A156.27-2011, American National Standard for Power and Manual Operated Revolving Pedestrian Doors, and all-glass revolving door wings typically do not include the metal framing elements to mount the safety sensors.
Connections to the building
Revolving doors can be connected to buildings at the mid-post, throat opening, and in several 'keyhole' configurations including standard, double-bent glass, and angled. The common connection used is the mid-post. However, since half the door protrudes beyond the building envelope, it would not be recommended where pedestrian space is limited or without a protective building overhang. An interior keyhole may be used when the lobby is large enough that the door will not encroach on a nearby elevator lobby, stairs, and escalators.
With an interior throat opening or keyhole connection, a door is completely mounted into the interior of a building and there is no part of the door itself exposed beyond the building envelope. This eliminates any rain or snow accumulating atop the door and greatly reduces accumulation inside the door. It also greatly benefits useful life and reduces the amount of maintenance needed. Finally, an interior mounted door creates a mini overhang or awning effect that protects users from rain or snow as they enter the door.
Dimensional elements
The diameter of the door, the width of vertical styles, and the height of the door opening, canopy, sidewall enclosure base, and bottom rail sideline can be optimized to create the desired look and complement surrounding building elements and doors. When these dimensional elements are specified with consideration of surrounding features, a fluid and harmonious sightline is created. For dramatic appeal, an additional curved glass enclosure can be constructed above the revolving door to elevate the door's visual impact.
Security
Security against human and natural hazards is a growing concern, and entry doors are a key focus. Most revolving door manufacturers offer various night locking options that can ensure the building is securely closed during non-opening hours. Options include different types of locking mechanisms that secure the door wings in their standard resting position, and night sliding doors that close over the throat opening of the revolving door.
Doors can be locked from a remote location, and access control systems can be integrated with the door
to allow authorized users to enter or exit the building. Along these lines, many employee-only entrances use security revolving doors to prevent 'tailgating' and 'piggybacking.' Vandal- and bullet-resistant glass is also available.
Recommended surrounding features
A popular strategy in colder sections of the country, building overhangs provide shelter from weather and keep snow and rain from getting inside the door. However, as described earlier, interior throat opening or keyhole connections can create the same benefit within the entry itself—this makes for a simpler, cost-effective solution by requiring less of an exterior overhang to be built.
Additionally, if access control is used, an overhang provides protection during the brief pause when
a user must gain authorization before entering a security revolving door. Adequate attention should also be paid to flooring. Although there is no industry standard, most door manufacturers require the floor surface beneath the door's footprint to be perfectly dead level (or within a few millimeters) to ensure proper operation and correct weather seal along the bottom of the door wings.
Using different flooring materials for the circular footprint of the revolving door itself visually signifies to users the actual path of the moving door wings and makes for less confusion and hesitation upon entering. The installation of the matting materials at the exterior and interior will help avoid slips and falls.
Many buildings also employ stainless steel floor grates on either the exterior or interior side of the door or even under the entire door to collect dirt and debris before entry to decrease maintenance costs. Grating or matting that continues 3 m (10 ft) or more into the interior space can also help qualify for points under USGBC's rating program, Leadership in Energy and Environmental Design (LEED), working toward Indoor Environmental Quality (EQ) Credit 5, Indoor Chemical and Pollutant Source Control.