Understanding Code Requirements for User Comfort and Safety
A 1942 fire at the Cocoanut Grove, then Boston's premier nightclub, sparked modern code stipulations governing revolving doors. Today, national standards for the comfort and safety of revolving doors are found in American National Standards Institute (ANSI) 156.27, American National Standard for Power and Manual Operated Revolving Pedestrian Doors.
This standard stipulates requirements for power-operated revolving doors, which rotate automatically when approached by pedestrians and/or small vehicular traffic, and manual revolving type doors for pedestrians. The objective is to provide performance standards and provisions to reduce the chance of user injury and entrapment.
ANSI requirements set maximum RPM allowances for two-, three-, and four-wing automatic doors for safety, as well as speed control for manual doors, and required safety sensors that, when activated, cause the door to slow down or stop. The standard does not pertain to revolving doors for industrial or trained traffic or custom installation.
Manual or automatic
Another parameter to consider in determining capacity is whether manual or automatic doors are utilized. Automatic doors provide a hands-free experience for users pushing carts, strollers, luggage, etc. and would be the logical choice in such cases. Manual doors are generally smaller in diameter (less than 3 m (10 ft) and designed to accommodate one person per compartment, and are most suitable for low-traffic applications. Cost is another factor in determining whether an automatic or manual door is selected. Building owners may prefer the lower price-point coupled with the lower maintenance costs of a manual revolving door, compared to the higher price and maintenance costs of an automatic door. Finally, real estate constraints may limit the size of the door's footprint; for example, in downtown areas where space is limited and/or expensive, putting in two manual doors may satisfy capacity needs where a single 3.5 m (12 ft) automatic door would not.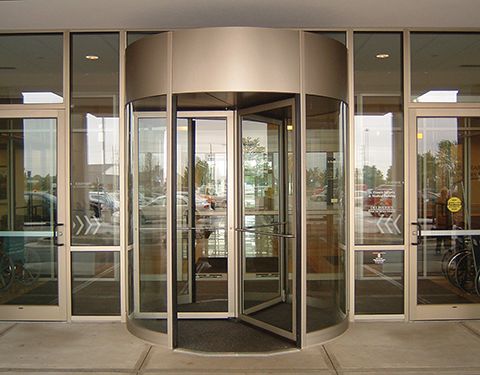 Compartment size and shape
Designers should factor in how compartment size affects wheelchair access, rolling luggage, shopping carts, and emergency egress. While it is generally true larger compartments afford more comfort or accommodate higher capacities, there may be caveats in certain situations. Also, as mentioned, in comparing smaller manual doors of the same diameter, the throat opening of the four-wing is greater than that of the three-wing. According to both International Building Code (IBC) and NFPA 101, the throat opening of three-wing doors under 2 m (7 ft) in diameter is not wide enough to meet life safety codes (which requires an aggregate dimension for egress of 914 mm [36 in.]) when the door wings are collapsed during any kind of emergency.
ANSI code requirements
ANSI places safety restrictions on the rotation speed of manual and automatic revolving doors and also requires presence detection sensors for automatic doors that can slow or stop the door when objects or people are close to making contact with the door. These requirements are discussed later in regard to safety, but it is worth mentioning here their influence on throughout.
Positioning drive and power assist
In manual doors, an optional, low-energy positioning drive system will slowly rotate the door to the standard 'X' position after use, which eliminates user confusion upon entering the door, and enables the user to step in and keep pushing rather than hesitating. These same positioning drive systems may also incorporate a power assist function that helps users push the door with reduced effort. The advantages of low-energy positioning and power assist are a greatly enhanced user experience compared to a plain manual revolving door. The advantages of low-energy positioning and power-assist include
a greatly enhanced user experience compared to a plain manual revolving door, and energy savings of a low-energy drive system compared to the constant running motor of an automatic door.
Specifying a revolving door
As a recap, properly specifying a revolving door depends on numerous factors. A list of key factors to consider:

Determine the capacity needed for each entrance and consider the benefits of a larger-diameter door.

Decide if a manual or automatic revolving door is necessary.

Make specifications consistent with architectural details.

Make specifications consistent with the manufacturer's door model selected as the basis of specification.

Choose the number of door wings—two, three or four—and detail the plan view consistently.

Indicate the desired dimensions for diameter, door opening height, and height under canopy as well as canopy height.

Specify a finish for the canopy of the revolving door system. The basics to consider are whether the canopy will be visible from above and whether it is exposed to the outside elements.

Determine security needs. Will night sliding doors be required? Prevention of tailgating or piggybacking? Do security concerns warrant remote locking and card readers?