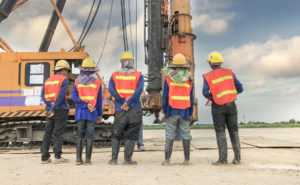 Construction employment levels reached a new high in May, but this may not be purely good news, according to the Associated General Contractors of America (AGC). Weekly hours hit 39.9—their highest levels since the series began 11 years ago—and there was an 11,000-job increase between May and April. Coupled with a 2.9 percent rise of 191,000 jobs in the past year, this brought the month to a total of 6.8 million jobs. With this being the case, where is the bad news?
"Construction firms continued adding new jobs at a faster rate than the broader economy during the past year as demand for their services remains strong," explained Ken Simonson, AGC's chief economist. "Even so, they had to keep employees on the job for more hours because they could not find enough qualified people to hire."
AGC's officials stated they believe this is due to a lack of investment in vocational education.
"It is time for elected officials to get the word out to students that construction offers high-paying jobs with upward mobility," said Stephen E. Sandherr, the association's CEO. "The best way to deliver that message is to provide the funding and flexibility to set up programs that expose more students to the opportunities that exist in construction careers."
Specific recommendations included improving funding for the Perkins Act (which funds this type of education), and facilitating recruiting and training programs on the state and local level.
Generally, however, the analysis revealed across-the-board increases. Nonfarm payroll employment almost doubled last year's increase of 1.6 percent, while hourly construction earnings rose by 2.2 percent to $28.55 (paying nine percent more than the average nonfarm private sector job in the United States).
Jobs added in May were primarily in the residential construction sector for both the month (7100 jobs) and the year (191,000 or 4.7 percent). Nonresidential also made a substantial contribution, however, adding 4400 jobs for the month and 71,300 (1.7 percent) for the year.
Unemployment also increased by a slight margin, rising to 5.3 percent from last year's 5.2. Despite this, however, it stands at one of May's lowest unemployment ratings in decades.