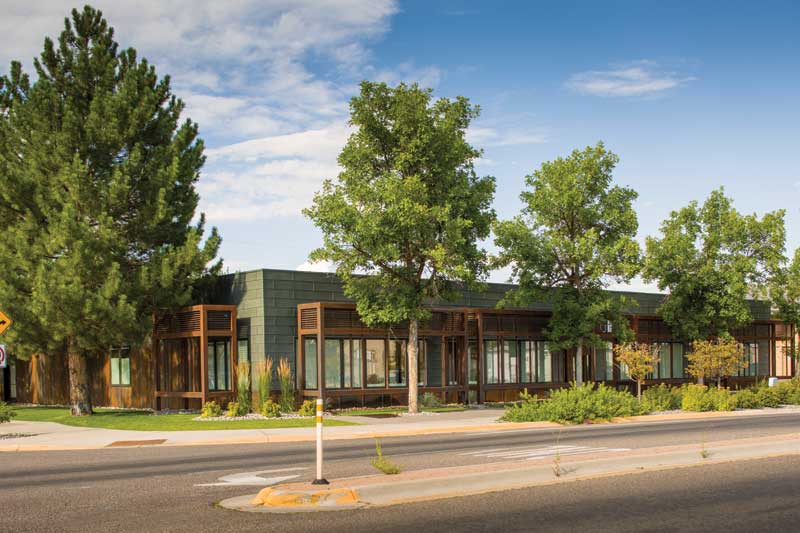 Design considerations
While it is exciting to get the photography team and drone pilots out right after the landscaping is done and the ribbon cutting is happening, design/construction professionals also need to consider the potential life cycle of zinc can go well past a century on wall applications, and 80 to 100 years on a roofing application. Though it is difficult to extrapolate what the aesthetic will be into the next decade—much less the next century—some considerations should be taken past the initial display of material samples.
The very best predictor of long-term surface appearance is to physically observe a zinc project that has had the opportunity to weather. Most, if not all, zinc manufacturers keep a running list of projects based on type of project, specific material, and locale, and make this available to any interested parties. It is important to note how long a project has been in place and how the weathering process has changed the tone and texture of the surface in relation to initial samples, and equally critical to address any questions or concerns directly with the manufacturer, representative, supplier, or installer.
Exposure plays a very important role in the patination process. A slightly pitched roof weathers more quickly than a steeply pitched roof, which weathers more quickly than a façade. For this reason, tinted or pigmented zinc is typically not used on roofing applications. The only way to achieve a long-term appearance darker than the matte pewter gray patina is by using a separate alloy specifically designed to weather and maintain a darker appearance through its life cycle.
Consistent and uniform weathering can be a greater challenge in a façade application. Though the same factors apply, walls often receive less exposure to wetting and drying cycles from protective overhangs. Though patination of zinc in a façade application will take much longer to weather uniformly, it is reasonable to expect that it will happen eventually. The speed at which a project weathers into the natural patina is highly dependent on its microclimate.
Zinc manufacturers do their best to mitigate tonal variation from batch to batch. Tonal variation occurs naturally and may be found within the same coil or sheet. Since the material is not painted, it exhibits the natural colors of the constituent elements. This is part of the beauty of the product—it is not a cause for rejection.
Further, zinc can be expected to perform and last very well in marine environments. As mentioned previously, the patina is formed as a different compound, but zinc can also react with the salt air to form a water-soluble white zinc chloride crystal. This is not adhesive by nature and is typically washed off through rainfall or even an occasional washing to maintain the desired appearance. Again, even in a marine environment, there is a reasonable expectation of an 80- to 100-year life cycle with proper design and installation, depending on exposure.
OIL-CANNING
Oil-canning, or perceived waviness in the pan of the panels, is the skeleton in the closet for the architectural metal community. Even perfectly installed roofs and walls will exhibit this phenomenon to some degree, and poor installations only serve to exacerbate the situation. Unfortunately, there is no magic-bullet solution to the issue, though it is possible to put a little lipstick on the pig and help ameliorate the situation with the following suggestions.
Be sure to start with the flattest surface possible—plumb, square, and level. Metal, including zinc, cannot be used to cover up poor carpentry.
Consider making panels out of thicker material. Most fabricators can run panels up to 1.0-mm (0.04-in.) zinc, though installers will have a harder time performing more intricate details.
Natural/bright-rolled zinc with a high initial gloss will show more oil-canning than a preweathered product.
Panel width can be reduced to lessen the size of an unbroken plane, or striations/ribs can be added to the panel pan.
Oil-canning is never a cause for material rejection, but should be explained and managed prior to fabrication and installation. The manufacturer, fabricator, and installer may all have valid suggestions on how to make the project look as good as possible.