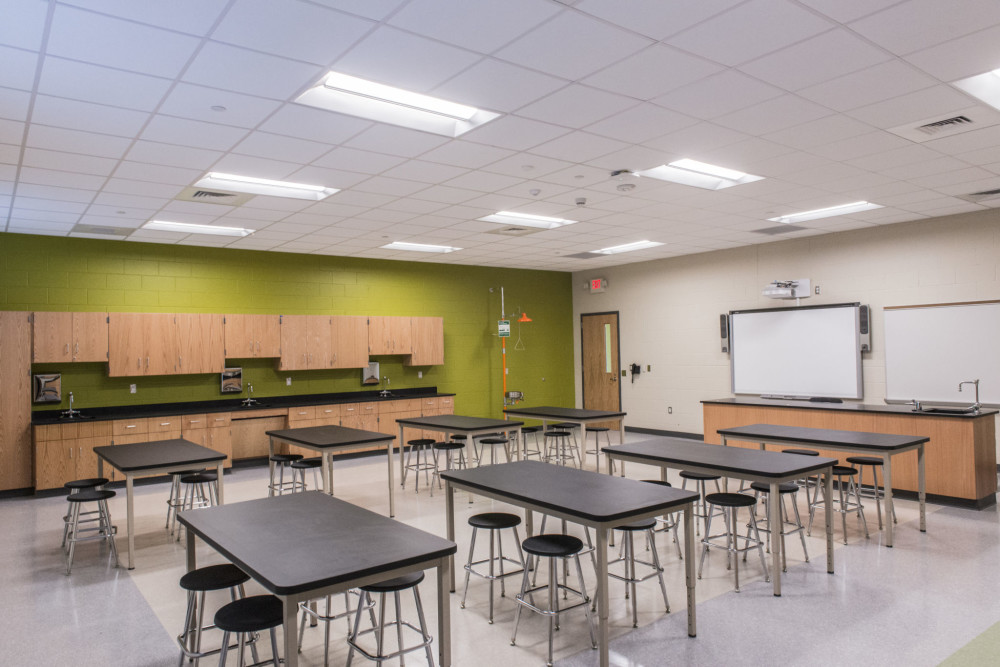 Students at Sandy Grove Middle School in Lumber Bridge, North Carolina, now have a better visual environment in which to learn, thanks to light-emitting diodes (LEDs).
In addition to helping improve clarity, reduce fatigue, and improve the sense of security, the lighting system is just one of the features of this net-positive building, which produces more energy than it consumes. More than 80 percent of Sandy Grove's fixtures are LED.
A public/private partnership, the school is financed out of its own expected energy savings and then leased to the school system. The building, designed for Leadership in Energy and Environmental Design (LEED) platinum certification, is projected to save Hoke County Schools $16 million on its energy bills over its life. In addition, the school has a working energy dashboard that tracks the performance of its green elements, enabling teachers to use the building itself as a teaching tool.
"Being from a high-growth, low-wealth county, it was critical for Hoke County Schools to approach the construction process of our newest school in a way that would be speedy, efficient and cost-effective," said Freddie Williamson, superintendent of Hoke County Schools.
Developed by Firstfloor and its sister company, SfL+a Architects, the building was originally designed around traditional fluorescents. It was already under construction when the decision was made to specify a proprietary LED system for its energy- and cost-savings benefits.
"It's about how much energy you can conserve so you don't have to generate as much to offset what you're using," explains Barry Buckman, principal with SfL+a.
"LED is an important aspect in that it's just a very energy-efficient light fixture, so you're using less power to handle what your typical lighting loads are going to be. We get to conserve some of that energy right off the bat. Now, moving forward, we're using LED lighting as the standard of design. The next couple of schools we're working on actually have 100 percent LED, allowing us to maximize that conservation aspect."
The use of LEDs also helps keep maintenance expenses down, Buckman adds.
"There's durability savings that are important when you look at lifecycle costs. Also, the ability to put lighting up high is something we wouldn't have considered before from a maintenance and access standpoint."
In addition, unlike traditional lighting, LEDs don't generate heat, which can impact mechanical sizing and heat load for HVAC systems.