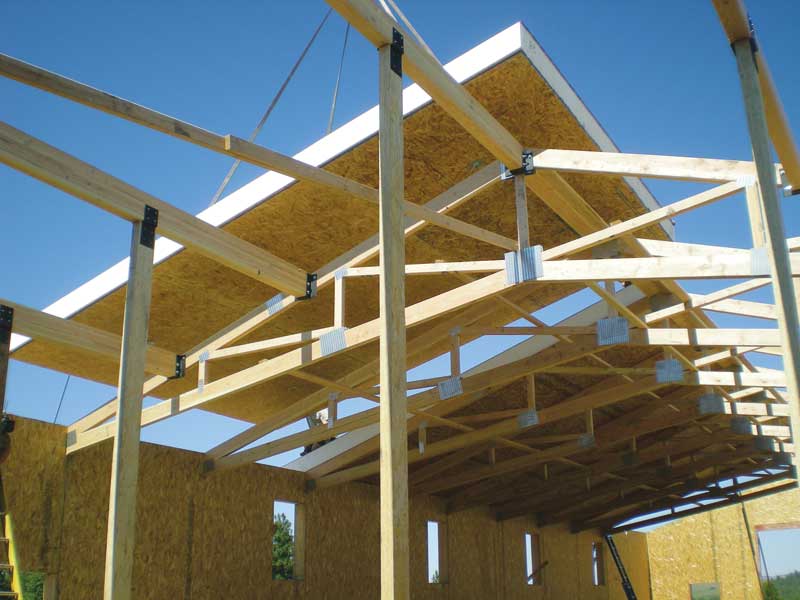 Designing and constructing with structural insulated panels (SIPs) can create a tight, energy-efficient building envelope. As with other high-performance wall and roof assemblies, managing air flow and moisture is necessary for maximizing energy savings, occupant comfort, and building longevity.
SIPs can dramatically reduce air leakage by providing continuous insulation (ci) and fewer gaps to seal. For example, SIP structures have been tested and shown to be up to 15 times more airtight than stick framing with fiberglass batt insulation, according to U.S. Department of Energy (DOE) research. (See U.S. Department of Energy's (DOE's) Oak Ridge National Laboratory [ORNL] 2002 report, "Heating and Blower Door Tests of the Rooms for the SIPA/Reiker Project." The lab's tests showed the leakage rate for SIP construction was 0.23 m3/min [8 cfm] at 50 Pa [1 psf] compared to 3.43 m3/min [121 cfm] at 50 Pa for wood framing with fiberglass batt insulation.) When used with other high-performance building systems, SIPs' airtightness, efficient insulation, and reduced thermal bridging can help reduce heating and cooling energy consumption 50 to 60 percent over the 2006 International Energy Conservation Code (IECC).
While minimizing air leaks is crucial for energy-efficiency, ultra-tight SIP buildings typically require mechanical ventilation to provide occupants with fresh air and help manage interior moisture. Additionally, because SIPs are a wood-based product (a common composition is oriented strandboard [OSB] laminated to expanded polystyrene [EPS] foam), the building design must incorporate methods to control water vapor transmission and bulk water infiltration.
SIPs perform well in cold, hot, wet, and dry climates. For example, the materials for Amavi Winery (Walla Walla, Washington, pictured below) were specified to provide a climate-controlled environment critical for storage of wine and casegoods. The SIPs help maintain consistent indoor air temperature and humidity despite the region's daily and annual temperature swings.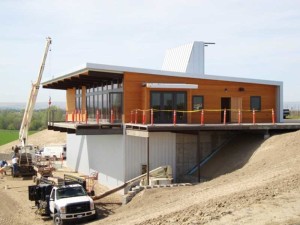 Other recent SIP projects in demanding climate zones include schools, public buildings, multi-family residential homes, and other structures in Alaska, Montana, North Dakota, Arizona, Nevada, and New Mexico. (See "SIPs Used in Quick Winter Construction.")
Air leakage and vapor control
Since SIPs come in large panels designed to fit together efficiently, there are fewer potential avenues for air leaks compared to commonly used construction techniques. For maximum energy efficiency and building durability, project specifications should address proper SIP sealing. Architecture and building science consultants, Building Science Corporation (BSC), summarizes the issue as follows:
Both OSB and EPS foam are air-impermeable so there is no air leakage through the center of the SIPs panels. However, it is important to address the airtightness of joints between the panels, as well as interfaces with other structural elements (i.e. foundation walls or roofs) and penetrations such as windows, doors, and services.
BSC also suggests it is not difficult to obtain a tight seal when building with SIPs. Any risk associated with moisture-related durability issues from air leakage can be avoided by abiding by recommended construction guidelines.