Tile warpage
Another compounding factor contributing to excessive lippage is the degree of tile warpage. Many modern tiles are much larger than before—particularly those rectangle shapes whose long-to-short-side ratios can be extreme. This means warpage can cause unavoidable lippage or, as discussed later in this article, the perception of such a condition.
It is important to remember all ceramic tiles have some degree of warpage. However, just as with natural stone, it is these irregularities that give the materials their character and desirable appearance. Ceramic tiles have always had warpage and other dimensional variations, although current production technology results in more consistency. ANSI A137.1, Specifications for Ceramic Tile, has established allowable tolerances criteria for each type or category of ceramic tile.
While porcelain ceramic tiles are much denser and are more controllable in their manufacturing, they still have warpage. Standard-calibrated porcelain tiles have tolerance requirements allowing more variation in warpage and sizing dimensions. Rectified porcelain ceramic tiles have been ground after their manufacturing so their dimensional tolerance variations are much more limited. This allows the tile to be installed with a narrower grout joint width. Some manufacturers will say the grout joint can be as narrow as 2 mm (1⁄16 in.), but this author never recommends less than 4 mm (1⁄8 in.).
A 2-mm wide grout joint is too narrow to adequately fill the full depth of the grout joint for maximum support of the tile edge, which can result in grout later coming loose. Additionally, this grout joint would not be wide enough to allow for adjustments during the installation to help compensate for dimensional tile variations or minimize potential for tile lippage.
The more dimension variation a tile has, the wider the grout joint should be to keep grout joints looking consistently straight and to minimize potential tile lippage. This is why one sees grout joints on irregular-sized Mexican paver tiles that are 20 mm (3⁄4 in.) or wider, which helps compensate for the wide variations in their dimensional sizes.
Grout joint widths
Both ANSI and MIA state grout joints can never be less than 2 mm (1⁄16 in.) wide. This author often sees where tiles are butted together, which can lead to some serious problems. One potential problem is tile edge chatter where edges chip because the tiles compress against each other. This is caused by normal expansion within the tiles due to moisture or temperature fluctuations or from the dynamic building structural movements.
Another potential problem with tiles butted up to each other, particularly when there is not adequate movement joints installed within the assembly, is units can become debonded and tent up from the compression stresses. This is particularly true when they are not bonded well to their substrate.
Tile patterns
Warpage generally occurs at the tile's corners or at its center. For this reason, ANSI A108.02 says for running-bond patterns (i.e. staggered or offset) using tiles where any side is greater than 380 mm (15 in.), the grout joint size must be an average of at least 3.2 mm (1⁄8 in.) wide for rectified tiles, and a minimum of 4.8 mm (3⁄16 in.) for calibrated tiles.
The grout joint width shall be increased over the minimum requirement by the amount of edge warpage on the longest edge of the tiles being installed. For example, for a rectified tile exhibiting 1-mm (1⁄32-in.) edge warpage on the longest edge, the minimum grout joint width will be 4 mm (1⁄8 in.) + 1 mm (1⁄32 in.), or 5 mm (5⁄32 in.) for running bond tile patterns. Again, the wider the grout joint, the more one can minimize tile irregularities and minimize lippage. On the other hand, the more narrow the grout joint, the less one can compensate for irregularities within the tile or its substrate.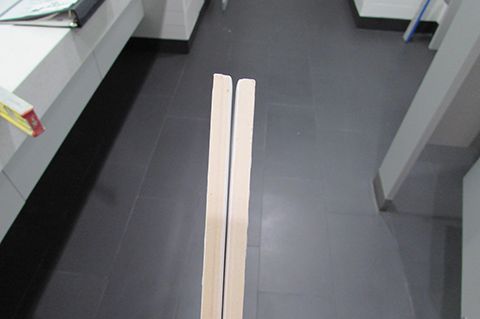 Warpage concentration limitations
Currently, ANSI A137.1 does not limit how much warpage can be concentrated within certain spans of the tile. This can be problematic because the tile might not exceed the maximum allowable warpage, but its warpage could be concentrated at the tile's corner or center—for which the tile installer cannot fully compensate. For this reason, the ANSI committee is currently considering adding language to the standards to limit the concentration.
Staggered tile pattern limitations
Since tile warpage can be so much more problematic with tiles installed in a running-bond pattern, there are other limitations stated in ANSI A108.02-2013, Section 4.3.8.2. This particular standard covers the compounding effects of the warpage from two adjacent tiles. It states tiles being installed in a running bond where the side being offset is longer than 457 mm (18 in.), the running bond offset cannot exceed 33 percent of the tile length, unless otherwise specified by the manufacturer. Mockups should always be required for approval before the tile installation to ensure end-users understand what they are getting—and to avoid false expectations.
Square versus chamfered edges
Another compounding factor that can contribute to excessive lippage is whether the tile being installed has a sharp square edge or an arris with a slight chamfer edge. The former is more prone to showing lippage and other variations, while the latter will be more forgiving. The chamfered edge will make the grout joint width wider at the tile surface.