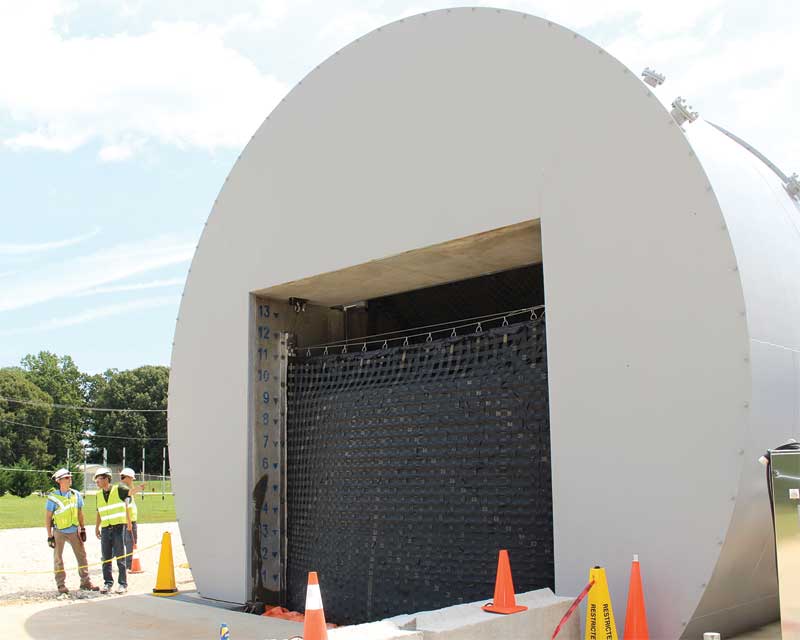 by Brian Shaw, CFM
In addition to the hurricanes 
and catastrophic floods making national headlines, a damaging flood happens frequently in the United States, caused by heavy rainfall, dam failures, land development runoff, drainage problems, inland remnants of tropical storms, or many other conditions. Flooding is the country's leading cause of deaths related 
to severe weather. Additionally, almost 40 percent of small businesses never reopen their doors after a flood disaster.
Given the devastating effects, it is time to rethink how we approach the mitigation of flooding's impact. To that end, this article examines the current situation—from regulations and floodplain management basics to the role of standards in improving buildings' resiliency in the face of potential disaster. It examines traditional dry floodproofing challenges with respect to setup efficiency while exploring the benefits of newer 'soft' technologies.
The need for better floodproofing
In an increasing number of areas around the country, the risk of flood is acute. More than 72 million ha (178 million acres) have been designated as regulated floodplains by the Federal Emergency Management Agency (FEMA). These areas are steadily growing, with more people finding themselves in a floodplain as maps are redrawn to reflect changes in conditions and development, along with improvements in scanning technology, additional years of climate change, flood and topographic data, and more-advanced prediction models.
Last year, the United States had 19 separate floods swamp the nation—the most in one single year since records began in 1980. According to an analysis by global reinsurance firm Munich Re, the worst was in Louisiana in August. At least 13 people were killed and roughly 60,000 buildings were destroyed. The disaster, noted as the country's worst natural catastrophe since Superstorm Sandy in 2012, cost $10 billion.
Congressional Research Service data show the National Flood Insurance Program (NFIP) paid out between $12 and $15 billion in claims after Sandy. The U.S. Department of Housing and Urban Development (HUD) estimates that storm caused a total of $65 billion in damages and economic loss. Flood losses 
for the early October 2015 river and stream flooding 
in South Carolina are still expected to top $1 billion. Whether from coastal storm surges or catastrophic 
rain events, flood damage represents one of the largest potential burdens on government and commercial resources. Sandy showed floodproofing approaches must be rethought.

Especially in coastal areas, flood-event frequency is projected to rise steadily over the next several decades. The U.S. National Oceanic and Atmospheric Agency (NOAA) notes sea levels rose annually about 1 to 2.5 mm (0.04 to 0.1 in.) since 1900, and the rate appears to be accelerating. Using newer satellite altimetry, sea level rise has been measured at an average of 3 mm (0.12 in.) annually since 1992. Even conservative projections of future sea level change suggest a rise of 300 to 508 mm (12 to 20 in.) over the remainder of this century, with some estimates much higher. (Visit www.usatoday.com/story/tech/sciencefair/2017/05/23/sea-level-rise-accelerating-study/102068034 or the September 2013 issue of National Geographic for the article, "Rising Seas," by Tim Folger and George Steinmetz. For more, visit www.nationalgeographic.com/magazine/2013/09/rising-seas-coastal-impact-climate-change.) Unsurprisingly, flooding frequency in coastal areas is expected to go up.