Conclusion
Recent flooding events have shown the importance of deployment time for infrastructure flood protection systems. The devastating damage and economic loss totals, as well as the loss of life, from Superstorm Sandy demonstrated current floodproofing techniques are useless when they are not deployed. The traditional systems of employing solid, metal barriers or logs require massive storage space and extensive setup and deployment time. The new dry floodproofing concept of flexible, soft goods stored at the point of use addresses these issues and may be the solution building owners, architects, and builders never knew they needed.
CUSTOMIZING A STAIRWELL SOLUTION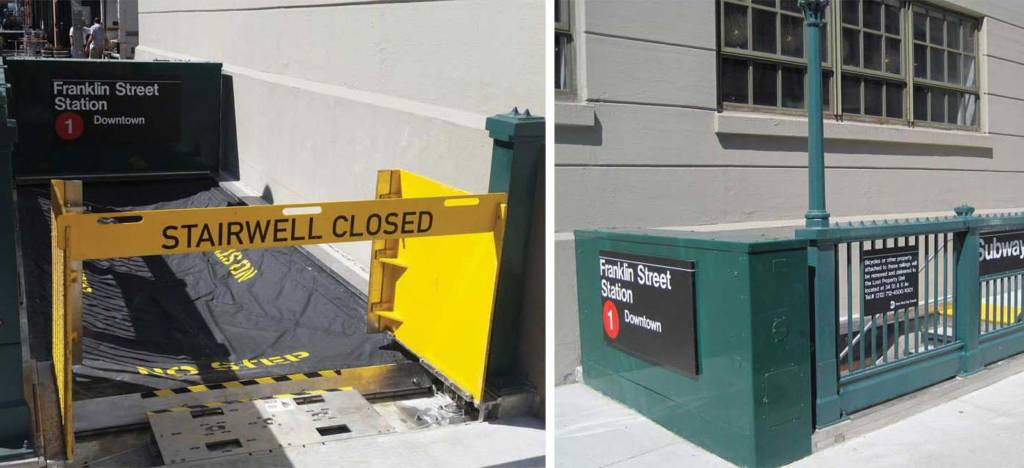 This flexible flood gate is a high-strength, point-of-use stored, and rapidly deployable protector of stairwells. Currently being used across the New York City subway system, it is scalable to water levels up to 9 m (30 ft) and can be deployed during high winds.
A high-strength closure for New York City's subway system stairwells is constructed from textile-based materials within a structural frame; it was born out of the need for rapidly deployed, flood protection stored onsite. The key requirements by the client included the ability to be stored at the point of use to allow the system to stay open until the last minute, provide a return to normal operations faster, and ensure components are not misplaced between events. The system also needed to be able to withstand up to 4.3 m (14 ft) of water head pressure, given updated Federal Emergency Management Agency (FEMA) flood maps.
For this project, no inward loads could be placed on the concrete structure of the stairwell—in other words, the floodproofing system needed to react to all inward loads. It also could not encroach on the stairwell, along the sides, at the top step, or at the header. The assembly, which needed to be able to withstand vandalism, was required to be deployed by transit station personnel in under 30 minutes. It also needed to be deployed mechanically rather than rely on power that may be unavailable during a major storm.
Achieving these goals involved using soft goods technology developed for National Aeronautics and Space Administration (NASA) programs such as the spacesuits that walked on the moon, the Pathfinder Landing impact bags that supported successful landings on Mars, and inflatable space habitats. The benefits of textile tension fabric membranes include:
storage in small volumes—a 1.8-m wide x 3.7-m long (6 x 12-ft) stairwell cover fits on a 330-mm (13-in.) diameter spool inside a 380-mm (15-in.) wide storage container;
ability to withstand high loads at significantly lower weights than steel structures—a 1.8 x 3.7-m cover tested to 4.9 m (16 ft) of water weighed 33 kg (72 lb), as opposed to the steel lid of the test fixture, which weighed 3400 kg (7500 lb) to react the same load; and
scalability to meet various hydrostatic and hydrodynamic loads—accomplished by selecting different structural webbings to meet challenges to 9.1 m (30 ft) of head pressure and more.
The stairwell waterproofing system functions similarly to a window shade or rollup storefront security door. The primary components include its cover, storage container, gate guides, and top-step deployment mechanism. When the notice to deploy is given, the tamperproof cover plates on the gate guides are released and the top step is opened. The cover is deployed by retrieving a T-bar from the storage container and turning a drive spool that allows integral cables to pull the cover through the gate guides toward the top-step mechanism. Once fully deployed, the cover is bolted in place via a seal bar integral to the cover. The seal is accomplished at the gate guides and top-step seal bar.
The fabric cover chosen for this application includes Hypalon-coated Kevlar, a tightly woven structural netting made with 3855-kg (8500-lb) Kevlar webbings, and a Kevlar rope sewn into the assembly to function as the 'dead man' to prevent pullout and assist in sealing along the gate guides.
To date, 24 systems have been installed at New York City subway entrances, and are at the ready for the next major storm event.
Brian Shaw, CFM, is the director of sales and marketing for Smart Vent Products Inc. He has studied the science of flood mitigation for more than a decade, with a concentration in proper floodproofing techniques to ensure resilient structures. Shaw analyzes the role of building compliance in securing lower flood insurance rates and available mitigation solutions. As a Certified Floodplain Manager, he has traveled the country to educate professionals on the U.S. Federal Emergency Management Agency's (FEMA's) wet and dry floodproofing regulations and floodplain related issues with a primary focus on working with architects, engineers, and city officials. Shaw can be reached at bshaw@smartvent.com.