Spans
A vertical panel application with increased panel thickness will offer incrementally longer span capabilities between girts. The spacing is also influenced by applicable codes for wind pressure for the building site and geographical location. Conceptually, the spacing between mounting points—usually a horizontal girt—acts as a span, with the IMP serving the function of a beam and the applied horizontal load provided by the wind.  Increasing the spacing between the IMP mounting points will increase the face thickness and the panel thickness. Span capacity is affected by multiple factors: facing thickness, thickness of insulation, and fastening pattern of the panel to the girt. One should refer to local codes for design wind values, and coordinate with specific IMP providers, vertical span tables, and connection patterns as they vary from manufacturer to manufacturer.
Facing profiles
IMPs can be selected for various applications, from Class A office spaces to industrial cold storage warehouses. However, the facing profile will likely differ for each of these different applications.
A smooth, flat face panel will typically find use in contemporary, institutional, or commercial office applications. The smooth, untextured level of finish surface is consistent with other exterior material applications in these building types, such as stone, glass, concrete, or other types of metal classing. With IMP, the benefit is an architectural-level finish comparable to an aluminum composite material (ACM) panel with backing for the exterior facing panel. These types of panels are often used with an integrated aluminum storefront window system. Since IMP acts as the exterior skin, insulation, and interior face, where window or door openings occur, the extruded aluminum storefront rough opening can be integrated with the IMP rough opening. This integration works well with simple designs and uncluttered facades of contemporary commercial aesthetics, with the advantage of a long-lasting, consistent exterior finish.
Facing profile choices for IMPs include flat, minor ribs, V-grooves, deeper ribs, and striated profiles. The minor rib is a standard profile with most manufacturers, providing strength from a span standpoint, while hiding steel waviness, and avoiding the deep rib "metal building" negative architectural stigma.  All the above non-standard profile options provide for different architectural looks.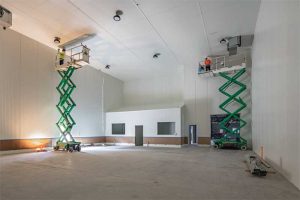 In general, builders prefer panels in "full height" length, whether it be an exterior or interior application.  This saves on installation labor costs and it is the best aesthetic option.  One note of caution: specifiers should contact their IMP supplier to verify panel length production limits and inherent span capabilities between mechanical connections. The recent IMP lines commissioned in the U.S. can make panels up to 22 m long. The selected IMP provider can advise on the combination of panel profile, lengths, thickness, and facing gauge to coordinate a satisfactory installation relative to expected aesthetics and adequate impact resistance for the environment specified.
Facing thicknesses
Interior and exterior metal skin thicknesses are produced in 22, 24, and 26 gauges, with embossed stucco texture or non-embossed surface options dependent on the specific application or preference of the end user. The material used is G-90 galvanized steel, AZ50 aluminum coated steel, or 304 stainless steel for specific applications. For most applications, 26 gauge is utilized, however specifiers often need 24 and 22 gauge for flat and straited applications, as well as longer panels of 17 m (55 ft) or more.  Stainless steel is an ideal choice for food processing projects where employees must wash down panels daily.
Panel thicknesses
The dimension between interior and exterior layers of steel, the foam core thickness, can be found in 25.4 mm (1 in.) increments, including thicknesses from 50.8 to 203.2 mm (2 to 8 in.). Thinner panels, in the 50.8- to 76.2-mm (2- to 3-in.) range, are typically used for curtain wall or liner applications. Temperature-controlled spaces and buildings commonly use 101.6- to 203.2-mm (4- to 8-in.) thick panels.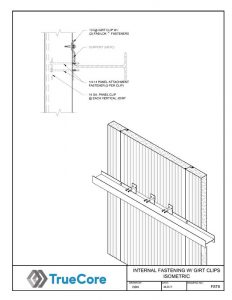 Several factors play into the selection of panel thickness. Like conventional polyisocyanurate boards commonly used for insulation at foundations and above low sloped roof decks, IMPs with a polyisocyanurate, foamed-in-place urethane panel-based core typically have a nominal R-value of 8 per 25 mm (1 in.) of insulation thickness, making them the most efficient building product available today.  R-values increase linearly as the dimension of core insulation increases. Code requirements for R-value are ever-increasing and IMPs are an easy way to satisfy these increased requirements.
The thermal performance of IMPs, when compared to other exterior materials, is evident after the analysis of a building's energy efficiency. The high insulation values and control of thermal bridging combine for an elevated level of energy efficiency. It should be noted, when architects, builders, designers, or contractors perform an energy-efficiency analysis, deeply grooved panels will only have the effective R-value of the thinnest section of IMPs. For example, a 152.4-mm (6-in.) maximum thickness panel with a minimum thickness of 101.6 mm (4 in.) will still only have an R-value equal to the 101.6 mm smooth panel.
The same concept of panel span occurs in the horizontal application between the vertical support points. Conventional horizontal installs, as mentioned earlier, often employ the use of metal stud infill framing. Therefore, thicknesses are not typically dictated by span, but rather desired R-value in horizontal applications.