EIFS and Green Building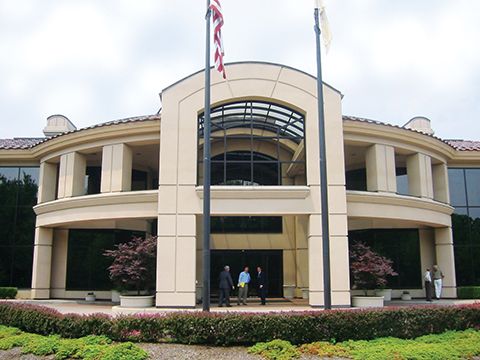 As new building codes require more stringent energy standards, there has been greater demand for improved thermal regulation and moisture control at the building envelope. One of the main benefits of exterior insulation and finish systems (EIFS) cladding is their strong environmental performance with low initial cost. By moving insulation outside the wall cavity, EIFS brings the dewpoint to the exterior of the sheathing, minimizing condensation within the wall, that can lead to heat loss. Adhesively fastened EIFS further reduce the incidence of moisture intrusion, in that it does not puncture air barriers with cladding fasteners. Thermal bridging, the process through which heat is transferred across thermally conductive elements of the wall assembly, can be reduced, or even eliminated, through the use of continuous exterior insulation (ci).
For retrofit projects aiming to improve performance and update the building appearance, EIFS can be a practical option. Lightweight and easy to install, EIFS are often selected for recladding of existing buildings, where it provides a quick, low-cost façade makeovers that can also cut energy costs.
EIFS projects aiming for Leadership in Energy and Environmental Design (LEED) certification can earn credits for reduced energy consumption. By providing a highly insulated building envelope, EIFS permit the downsizing of heating and cooling equipment, resulting in a net energy savings.
On the downside, EIFS are not going to earn many points for materials and resources. At present, none of the commonly used systems incorporate recycled or otherwise sustainable content, and the lifespan of EIFS may be shorter than other cladding materials. So, while EIFS can improve building envelope performance at a low initial cost, owners should consider that EIFS façades may eventually need to be replaced.
Arthur L. Sanders, AIA, is senior vice president and director of architecture with Hoffmann Architects Inc., an architecture and engineering firm specializing in the rehabilitation of building exteriors, with offices in Connecticut, New York, and Washington DC. As manager of the firm's Connecticut office, Sanders lends his extensive experience in architectural remediation to organizing technical resources efficiently, overseeing project completion, and mentoring junior staff members. A strong proponent of specifications in design, he has been active in CSI for over 30 years and is secretary of the Board of Directors for the Connecticut chapter of the American Institute of Architects (AIA). He can be reached via email at a.sanders@hoffarch.com.
Benjamin J. Robinson, AIA, is project architect with Hoffmann Architects in Connecticut. With 15 years of experience resolving failure in a range of building types and climates, Robinson develops rehabilitation solutions for leaks and other signs of distress in EIFS cladding. As chairperson of the Hoffmann Architects Training and Resources Committee, Robinson leads the firm's professional development program and oversees implementation of company technical standards. He is an active member of both the CSI and the AIA. He can be reached via email at b.robinson@hoffarch.com.