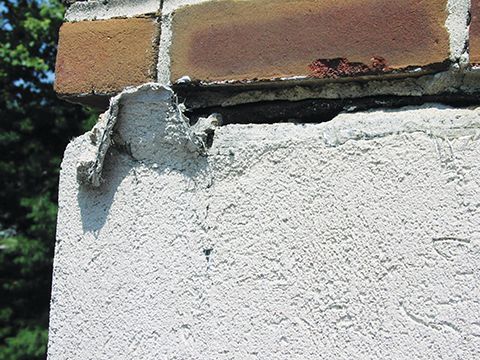 Coating
Elastomeric coatings can provide a fresh appearance and added waterproofing protection for worn EIFS surfaces. However, such coatings may alter the texture, sheen, and vapor permeability of the original cladding. Existing sand finish with a small aggregate size may lose its texture after recoating. One should avoid dark-colored coatings, which absorb heat and tend to crack. To verify compatibility of an elastomeric coating with the existing EIFS finish coat, most manufacturers recommend testing as per ASTM D3359, Standard Test Methods for Measuring Adhesion by Tape Test. Typically, EIFS manufacturers produce their own elastomeric coatings, which are designed to be compatible with their cladding systems.
Refinishing
To address EIFS damage or persistent stains, resurfacing may be necessary. First, the installer should clean and dry the area, then trowel a skim base coat to fill voids in the surface. Once the base coat dries, a new finish coat should be applied, per the manufacturer's instructions. When color-matching a new finish with an old one, a physical sample should be employed, as age and exposure may have affected the original color. Differing application technique may prevent refinished areas from blending completely with the existing finish, so resurfacing an entire panel to a termination usually produces better results than a smaller patch.
Flashing and sealant repair
Common points of water entry, including window and door perimeters, expansion joints, intersections with dissimilar materials and roofs, penetrations, and terminations should be periodically checked. Removing worn sealant may damage the existing EIFS, which must then be repaired and allowed to dry before new sealant may be installed. The design professional should confirm the new sealant is compatible with the surface of application.
EIFS damage repair
Depending on the depth and severity of EIFS damage, repair may entail removal and replacement of finish, base coat, reinforcing mesh, and even insulation board. Prolonged and pervasive water infiltration may also require replacement of substrate materials and possibly of the entire wall, including structural support members. For puncture or impact damage, such as dents or holes, the manufacturer should be consulted for instructions, particularly if the system is still under warranty. Shopping plazas, for instance, are vulnerable to damage from store signs that have been removed without repairing fastener holes. One should check with the manufacturer to determine whether such punctures void the warranty.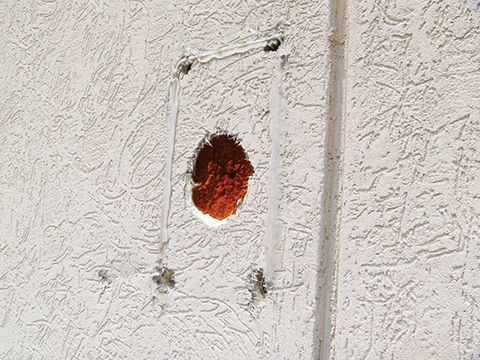 EIFS performance
If correctly designed, installed, and maintained, EIFS provide durable envelope protection. The oldest systems in the United States were installed in the late 1960s, and some are still in service. For those concerned about the long-term viability of EIFS in light of the series of cladding failures in the 1990s, a 2006 study from the Oak Ridge National Laboratory (ORNL) should put many of those apprehensions to rest.
Over a 15-month period, ORNL tested a number of cladding types, including brick, stucco, concrete masonary unit (CMU), cementitious fiber board, and EIFS, in the challenging mixed-coastal climate of Charleston, South Carolina. Of those wall systems tested, the best-performing was an EIFS assembly including a liquid-applied water-resistive barrier coating and 100 mm (4 in.) of EPS insulation board. The study validated vertical ribbons of adhesive provided an effective means of drainage within an EIFS wall assembly.
The ORNL study demonstrates that the new generation of EIFS successfully rectifies problems inherent to earlier systems. When designed with attention to moisture management, modern EIFS can be a reliable, cost-effective option for an energy-efficient building envelope.
Origins of EIFS in America
After the ravages of World War II destroyed vast swathes of Europe, cities looked to rebuild quickly and inexpensively. Thus EIFS were first introduced in Europe as a wall system that enabled the rapid redevelopment of devastated areas. Later, in 1969, EIFS were introduced to the United States, gaining popularity during the energy crisis of the 1970s, when retrofitting walls with exterior insulation improved performance and cut energy costs.
The EIFS industry continued to enjoy steady growth through the 1980s, thanks to its insulating properties, light weight, aesthetic flexibility, low cost, and versatility. In addition to new construction, EIFS were commonly used for retrofits, where it could be applied easily over existing exterior walls to improve the energy profile and provide a fresh appearance. Available in a wide range of colors, shapes, and textures, EIFS allowed architects the flexibility to design new façade profiles at a relatively low construction cost.
This versatility led to the proliferation of EIFS in the residential and light commercial markets. In 1981, the EIFS Industry Members Association (EIMA) was formed to advocate for EIFS manufacturers and improve product performance.