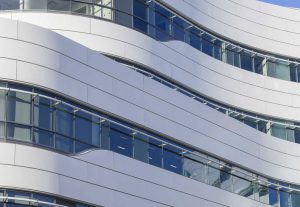 The use of metal rainscreen exterior envelopes to keep buildings tight and dry surpassed many other barrier wall construction methods in the United States during the last two decades. In spite of that, one can still see design flaws in project detailing.
An article in The Construction Specifier's new e-book provides tips for controlling moisture in the cavity and mitigating the risk of moisture penetration.
Protecting Against Water Intrusion is a four-part e-book covering the function and design of air and water control layers in modern, high-performance building enclosures, with an emphasis on the effect of penetrations and cladding attachment systems.
Readers will learn the impact of cladding attachments on air and water barriers, and how the transitions between face- and concealed-barrier systems must be closely examined to maintain continuity of the control layers.
Also covered is the terminology related to the performance of fastener penetrations through materials, such as "self-healing" and "self-gasketing."
Download the Protecting Against Water Intrusion e-book in two different formats—pdf or digital edition—by visiting https://www.constructionspecifier.com/ebook/georgia-pacific-protecting-against-water-intrusion-e-book/