TK Elevator enhances experience at Denver building
by brittney_cutler | September 20, 2021 12:18 pm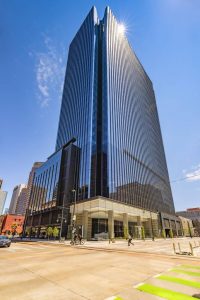 TK Elevator has completed installation of its touchless elevator solution at Block 162 in Denver, Colorado.
AGILE mobile, which allows tenants at Block 162 to operate elevators via their smartphone or wearable device, helps to avoid elevator traffic congestion as well as physical interaction with elevator surfaces, buttons, and handrails that can be prone to attracting viruses and bacteria.
Located in the heart of Denver's vibrant and active Central Business District, Block 162 is a 30-story, 138-m (452-ft) tall, 56,299m2 (606,000-sf) office development of Patrinely Group and USAA Real Estate. Swinerton served as general contractor on the project.
LEED Gold certified, Block 162 is the first building in Denver to provide its tenants with this touchless technology, adding to its amenities that include the 11th floor Sky Terrace, which features a fitness center, indoor-outdoor social lounge, private conference space and outdoor garden.
"Block 162 embodies the future of commercial office buildings, and that includes focusing heavily on tenant health and safety throughout the building," says Kevin Lavallee, president and CEO of TK Elevator North America. "We are proud to have our vertical transportation systems with technologically advanced touchless systems like AGILE mobile and MAX supporting such an inspirational building."
Available on Android or iOS devices, users can download the AGILE mobile app from an app store and request enrollment. An intuitive administration portal allows the building management to process user requests individually or in batch uploads. The portal can integrate with most access control companies to synchronize permissions. In addition, building management can use the portal to create tenant groups and floor access schedules.
After being granted access, users can then create their profiles in the AGILE mobile app, requesting floor access and setting access schedules. Once approved by building management, the user can then begin accessing elevators remotely via the AGILE mobile app. Once a tenant enters the building's lobby and connects with a beacon, a prompt is sent to the elevator system and the pre-selected floor is registered. The allocated elevator car is then promptly displayed on the app and the tenant quickly gets into the car.
Endnotes:
[Image]: https://www.constructionspecifier.com/wp-content/uploads/2021/09/FF_DenverHighrise.jpg
Source URL: https://www.constructionspecifier.com/tk-elevator-enhances-tenant-experience-at-denver-building/
---