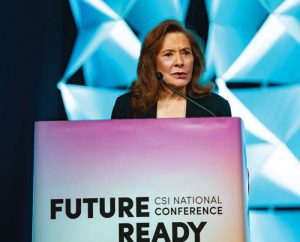 CSI National Conference offers a look into the future of the industry
The 2022 CSI National Conference welcomed the architecture, engineering, construction, and owner (AECO) industry to Denver, Colorado, on Oct. 12-14, with a wealth of interactive events, top-level speakers, and an introduction to game-changing innovative technology.
Galvanized by a "Future Ready" theme, the sold-out occasion provided attendees with a firsthand look at the major trends, innovations, and potential pitfalls that in the years to come will have the biggest impact on AECO professionals.
"It was an incredibly rewarding conference because it represented such a large cross section of our industry," says Mark Dorsey, CSI's CEO. "The benefit to all the owners, engineers, specifiers, and design professionals who came
to Denver was they got a close and personal look at the potential impact of how the economy, AI, robotics, and the software we use will affect the work we do in the future."
Featuring keynote speeches from trailblazing CEOs, progressive technology thought leaders, and innovative professionals throughout the AECO community, the conference provided plenty of real-life examples of how that future is taking shape right now.
Keynote speaker Henry H. Chamberlain, president, and chief operating officer of BOMA (Building Owners and Managers Association) International, provided a compelling sneak peek at how owners will make business decisions based on environmental, social, and governance (ESG) principles; resilient, high-performance, and sustainable design.
In another keynote, titled, "The Three Horizons Framework for Innovation: Understanding Current and Future Technologies," three technological vanguards described how they are using a framework known as "Three Horizons" to understand, assess, and adopt innovative technological tools in their jobs.
Hugh Seaton, general manager of Crosswalk®; Tessa Lau, founder/CEO at Dusty Robotics; and Adam Bridgman, co-founder, and general partner at Ironspring Ventures, shared insights on the possible and practical applications of this new tool.
The session "Talent Awakening: The Future of Workforce Growth and Success" delved into how technology and workforce demographics require change to transform what work means today and the importance of workplace culture, with Al Dea, founder of talent and strategic advisory firm Betterwork Labs; Don Dea, founder of the American Society of Association Executives AAPI Advisory Group; Erica Kennedy, principal of Hospitality Studio; and Hugh Seaton.
A highlight of the conference was industry trailblazer Linda Alvarado's candid presentation on how to break traditional barriers. President and CEO of Alvarado Construction Inc. and the first Hispanic owner of a Major League Baseball (MLB) franchise (the Colorado Rockies), Alvarado shared her struggles as a pioneer in an almost exclusively male-dominant industry. Her humorous, deeply personal presentation brought the crowd to its feet.
CSI also formally launched its first-ever end-user software, Crosswalk® for Microsoft Word®. The product, a user-friendly add-in for Word, promises to make construction planning more accurate, convenient, and efficient (see page 7).
Other conference highlights included the "CSI Celebrates Ceremony and Reception," an annual event in which CSI members celebrate the achievements of their colleagues and contributions to CSI and the AECO industry. Among the many recognitions and honors of the evening, Gary T. Bergeron, FCSI, was elevated to the College of Fellows, Cherise Lakeside, FCSI, CDT® was presented with the Hans William Meier Award for Innovation of Certification Programs, and Caitlin Morgan, CSI-EP, CDT was presented with the Outstanding Emerging Professional Award.
Overall, attendees welcomed the opportunity to create new memories with their colleagues and friends in a relaxed, professional atmosphere and celebrate how refreshing it was to be together in person again. Plans are already being made for the 2023 CSI National Conference in Minneapolis, Minnesota, scheduled for Oct. 4-6, 2023.
"It's going to be another great event," says Dorsey. "There's no other place you can forge these deep relationships with other professionals, be able to talk to the speakers one-on-one, and really spend some quality time with colleagues and industry leaders."