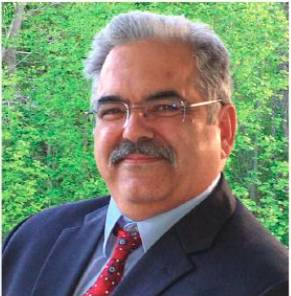 In Conversation with Gary T. Bergeron, CSI's Newest College of Fellows Member
Gary T. Bergeron, FCSI, was advanced to fellowship during the "CSI Celebrates" event at the 2022 CSI National Conference, held on Oct. 12-14 in Denver, Colorado, making him the newest member of CSI's College of Fellows.
Throughout his 14-year membership with CSI, Bergeron has notably contributed to construction education at the high school, university, and professional development levels, and has been a leader of the Gulf States Region, and the Knoxville, Little Rock, and Chattanooga chapters.
Here, he discusses the honor along with some of the highlights of his career in the architecture, engineering, construction, and owner (AECO) industry.
What does it mean to be recognized as a 2022 College of Fellows honoree?
The credit for my career success goes to several key people in my Construction Specification Institute (CSI) journey. My construction journey actually began with my dad, Robert (Bob) Bergeron, whose first job was straightening old nails for his father's contracting business for re-use.
Growing up in New Orleans, Louisiana, my dad worked as a geologist for Shell Oil Company but always stopped at construction sites to show my brother, Wes, and me how the "parts and pieces" went together. He taught us how to read blueprints at an early age when he built several scale-ship models for Shell Oil from the original shipyard blueprints. We always helped him with projects around the house that were not started until he completed a rudimentary drawing using tracing paper and the old graphite lead holders. My brother or I held the flashlight, or the other end of whatever dad needed help with on his current assignment. Some of the construction projects we completed with him include laying a brick paver patio, extending the house roof over the patio, building a 6.1 x 6.1 m (20 x 20 ft) separate workshop and a small sailboat, and re-shingling the roof on the house.
What was your first job in the AECO industry?
My specification journey started when I attended Louisiana State University (LSU) in Baton Rouge (Geaux Tigers!). I worked as a student drafter
in the LSU physical plant where I drew small projects for the physical plant architect and engineers. My duties included indexing and maintaining the old ink on linen tracings and book specifications for past and present projects. I also trained the full-time non-student draftsperson who eventually replaced me.
It was at the LSU physical plant where I became familiar with most of the project drawings and specification divisions.
When I graduated with an engineering design degree from the mechanical and industrial engineering school, jobs were in short supply due to the oil market crash that affected the industry. I went back to LSU for a master's in business administration and met my life partner, Jill. The business degree was never completed because our first child was born, and I needed a good-paying job to support our new family. A friend who had the same degree said there was a job opening at Mechanical Electrical Plumbing (MEP), his engineering firm in Baton Rouge. The design work at the MEP firm used the plastic lead holders on multiple layers of plastic mylar on a pin bar registration system. When the construction industry faltered again, we relocated to Augusta, Georgia, for another mechanical design position where I worked for four years until we made the move to Knoxville, Tennessee.
How has being a member of CSI informed your life and career?
My CSI journey goes back to the early 2000s when Richard (Dick) Kelso asked me to teach his environmental controls system architecture class at the University of Tennessee when he went out of town. Susanne Tarovella persuaded me to present an MEP refresher for the architectural registration exam (ARE) class in Memphis, Tennessee, to the emerging professionals at the TN AIA symposium. Lisa Hoskins asked me to guest lecture on HVAC integration to her upper-level architecture class, and Darson Buckner convinced me to run for vice-president of the CSI Knoxville chapter where I followed several distinguished past chapter presidents such as William Sundquist, FCSI.
Nancy Roberts (past CSI Knoxville president) taught me how to write a clear agenda for a CSI board meeting as well as how to table a discussion (Roberts Rules of Order) for committee work instead of spending valuable board meeting time.
Suzan Jordan rejoined CSI Knoxville in 2013 and followed me as chapter president. She has become one of my best CSI friends. I met Kathy Proctor, FCSI, at the CSI Knoxville 50th anniversary celebration where she said she had seen some of my work. She wrote the Robert Brousseau nomination for which I was awarded in 2017, then Liz Icenogle from the Dynamic Chapter Program (DCP) asked me to emcee the awards ceremony at the CSI National Conference in Nashville last year. It was William Sundquist's encouragement that led CSI Knoxville to nominate me for a fellowship. Kathy Proctor put her writing skills to work again and solicited 10 letters of recommendation from many colleagues in the field.
Is there anyone you would like to recognize for supporting the work you do?
Most of all, I would not be here without the best life partner and spouse, Jill, who edits my technical articles, helps me outline my presentations, and critiques my public speaking delivery during rehearsal and keeps me
on an "even keel."

Peter Kray is a content strategist with CSI. He can be reached at pkray@csinet.org.