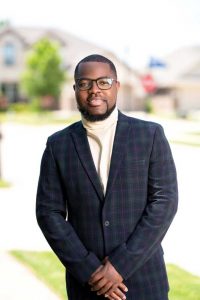 Catching up with Seun Olatunbosun: Learning how the CDT Certification impacted his career
CSI first sat down with Seun Olatunbosun, RA, NCARB, CSI, CDT, PMP, M.Arch, in March 2021, shortly after he earned his Construction Documents Technologist (CDT) certification. At the time he said, "I chose to earn the CDT to have an overall understanding of building construction, be able to write specs, understand best practice and project delivery methods, and for career advancement."
Two years later, Olatunbosun shares some insights on the specific ways CDT certification is continuing to pay off in his career.
How has the CDT certification informed how you approach new projects?
The following are some ways the CDT certification has influenced my project approach:
Knowledge of industry standards. The CDT certification has helped me with a solid understanding of industry standards and best practices related to construction documentation. This knowledge enables me to approach new projects with a solid foundation, ensuring they adhere to known standards and are in line with industry expectations.
Effective communication. With a CDT certification, I have the skills to manage projects from inception through construction completion.
Improved document interpretation. I now have a deeper understanding of how to interpret construction documents, including drawings, specifications, and contracts. This enables me to effectively communicate with the project team. It also helps me to easily identify potential conflicts or discrepancies and work toward resolving them early on.
Legal and contractual considerations. With CDT certification, I am well-versed in contractual language, contract administration processes,
and risk management. This knowledge allows me to approach new projects with a keen awareness of legal considerations, ensuring my projects accurately reflect contractual obligations and mitigate potential disputes.
What future opportunities or goals can the CDT certification create?
There are many opportunities and goals the CDT certification can create, for example:
Career advancement. It can position me for career advancement within my current organization because it demonstrates my commitment to professional development and enhances my expertise in construction documentation, which can make me a strong candidate for promotions or roles with increased responsibilities and leadership opportunities.
Specialization within construction industries. The CDT certification can serve as a steppingstone toward specialization within the construction industries. As an architect, I may choose to pursue additional certifications or education in specific areas such as specification writing, sustainable design, or construction contract law. It can also open doors to specialized roles or consulting opportunities.
Industry involvement and leadership roles. By actively participating in industry events, serving on committees, or pursuing leadership roles, I can contribute to the advancement of the profession and expand my network.
Continued professional development. Building my knowledge and skills through continuous learning and staying updated on industry trends can help me set new goals for acquiring advanced certifications, attending conferences, participating in workshops, or pursuing higher education in related fields.
Find out more about how the CDT can impact your career at: www.csiresources.org/certification/cdt.

Author
Peter Kray is a content strategist with CSI. He can be reached at pkray@csinet.org.