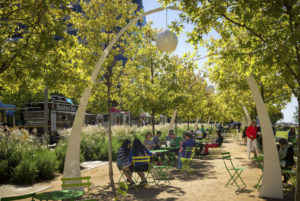 Earlier this month, the American Society of Landscape Architects (ASLA) announced its annual awards list, honoring the best landscape projects. Thirty-eight winners were selected from 465 entries. The awards will be handed out on October 23 as part of ASLA's annual meeting and expo at the Los Angeles Convention Center.
The following won awards of excellence in various categories.
General Design
A flexible, pedestrian-oriented design at Klyde Warren Park (Woodall Rodgers Park Foundation) in downtown Dallas earned OJB Landscape Architecture an award of excellence.
Analysis and Planning
The master plan for Texas' hurricane-ravaged Galveston Island State Park immerses visitors in the dynamics of a fragile and diverse landscape. Studio Outside won this award for coming up with an array of recreational opportunities for those visiting the Texas Parks & Wildlife Department site, celebrating the island's environment.
Communications
Using immersive panoramic tours filled with historic information hotspots, images, sounds, and videos, visitors to the Digital Library of Landscape Architecture History (DiLiLAH), an online public repository, are virtually transported to important sites across the globe. This was created by ASLA member Benjamin George.
Research Category
"Fluid Territory: A Journey into Svalbard, Norway," by ASLA members Kathleen John-Alder, Rutgers University (New Brunswick, New Jersey), and Tromsø Academy (Norway), is noteworthy for its geographical extent, innovative combination of cross-disciplinary information, multiscalar mapping techniques, and expansion of the investigative terrain of landscape architecture.
Residential Design
The Birmingham Residence, located in Detroit, embodies the client's adventurous taste and celebrates the Michigan's historical ties to the steel industry. Andrea Cochran Landscape Architecture drew inspiration from contemporary art, reinterpreted traditional elements of the garden, and created spaces that complement the visual language of architecture.
The Landmark Award
Utilizing modern technology and ancient skills to combine utility with pleasure, horticulture, aesthetics, artifice, and nature, the landscape elements of the J. Paul Getty Center join with the architecture and topography to create a unique addition to Los Angeles. This award went to OLIN for the J. Paul Getty Trust.