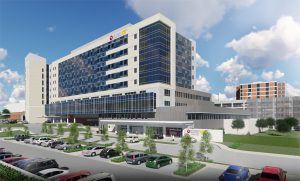 A nine-story patient tower at the Methodist University Hospital (MUH) in Memphis, Tennessee, is now complete. The 41,806-m2 (450,000-sf) tower was constructed on top of the already existing emergency department of the hospital.
The Shorb Tower is part of the hospital's campus expansion project that also includes a 700-space parking plaza.
"The new Shorb Tower represents our commitment to provide the best care to patients in the community and our dedication to the future of medicine," said Richard Kelley, vice-president, corporate facilities management for Methodist Le Bonheur Healthcare. "This is one of the largest transformational projects in the history of the Memphis Medical District and will allow us to continue to attract top medical talent to join our outstanding team."
The hospital will consolidate its transplant services into a two-floor outpatient comprehensive transplant institute in the new tower. The new tower will also include cardiology, blood and marrow transplant, and oncology services. The expansion allows for a 36 percent increase in intensive care unit (ICU) capacity and a 20 percent increase in the hospital's operating room capacity. The next phase of the project includes 8733 m2 (94,000 sf) of renovations to existing patient and operating rooms.
Construction services company Turner Construction used state-of-the-art laser scanning technology to scan each of the 70 patient bathrooms to ensure the floors are properly sloped so water does not pool.
To modernize the look of the campus, most of which is made of red brick, the building has a dynamic glass system on the exterior of the tower giving a new identity to the hospital's main entrance.
Memphis firms Self+Tucker Architects and Archimania worked with Dallas-based HKS for the project. Bernhard TME provided mechanical, electrical, and plumbing (MEP) services and Memphis-based Allen & Hoshall served as the project's structural and civil engineer.