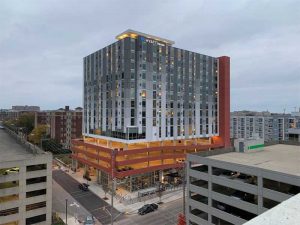 By Tim Salerno
A global pandemic rocking the foundation of a world economy. A widespread labor shortage causing employers of every kind to scramble for qualified workers. Extreme weather, from hurricanes and flooding to wildfires and intense heat.
The United States has witnessed each of these scenarios in the past two years, and in each case, there was a negative impact to the construction industry. In some cases, activity came to a complete halt. This affected everyone in the stakeholder chain–the architect, the specifier, the contractor, product manufacturers, installation crews, and the facility's owner. Each of these scenarios created chaos with delivery timelines and increased project costs.
When prefabrication enters the construction equation, the variables change dramatically. Crews can manufacture fully fabricated exterior wall panels (including the façade) in a climate-controlled facility with no weather limitations. The wall panels can then be transported to a job site where they are hoisted into place and attached to the structure without the need for exterior access. In fact, prefabrication can provide up to 80 percent reduction in building envelope installation time with a substantial reduction in on-site installation team size and minimize the impact of weather.
In the wake of COVID-19, many construction professionals experienced the value proposition of working in a safe, controlled environment removing the uncertainties of working in the field. Add in a post-pandemic labor shortage, and prefabrication becomes an even more popular solution, because it requires a smaller crew to complete a job.
The evolution of prefabrication stretches back more than 40 years. As the construction industry has matured, prefabrication has gained momentum as more building owners and contractors realize the benefits. At the same time, fuller adoption of the approach requires a different mindset from all involved parties including owners, architects, general contractors, wall consultants, fabricators, and other trades.
In essence, the market has been primed for prefabricated exterior walls for some time. As they gain traction, the benefits of prefabrication become even more apparent. Its potential has yet to be fully realized.