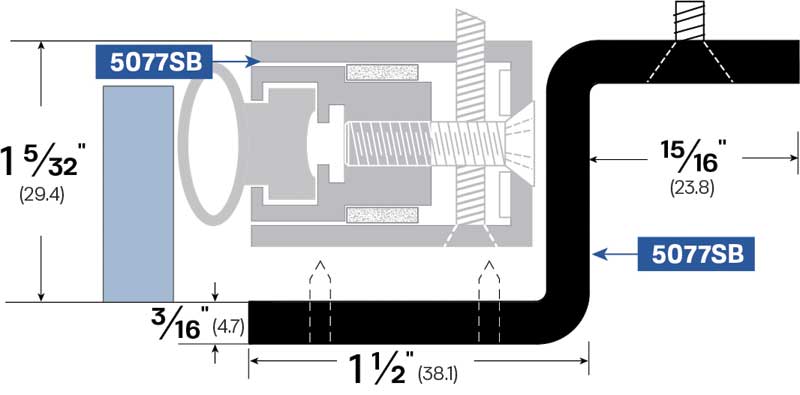 Another common source of poor acoustical assembly performance is gaps caused by imperfect door alignment. This is a common problem in newly installed gasketing, but can also surface later as buildings shift and settle and doors cycle through changes in temperature and humidity. The best way to ensure consistent, long-term performance is to select acoustical gasketing with adjustable features and the ability to adapt to any future clearance increases. There are models available on the market enabling the restoration of a sound-tight seal using nothing but a screwdriver.
Beyond gasketing, another area frequently identified as the source of insufficient sound control is the threshold. This is particularly common in situations where the specifier is unsure of the flooring type being utilized in an opening. If an improper selection is made, it can result in a significant amount of space remaining between the bottom of the door and the finished floor, rendering the acoustic door largely ineffective.
One of the most effective solutions to this problem can be found in concealed automatic door bottoms. Although the configurations of this type of seal are endless, the automatic door bottom is activated in one of two ways. First is the standard opening and closing of the door. If the door is closed, the threshold functions as a latch activating the door bottom and allowing the seal to drop down. When the door is opened, the pin hitting against the stop retracts in the
door bottom and seal is then concealed into the housing.
To determine which automatic door bottom mounting option will provide the best acoustical properties, it is imperative to understand the opening. Each opening is different, and every specification writer has their own way of putting together groups of products.
If a door is specified to include a rabbeted threshold, then a surface-mounted door bottom will be more resistant to noise penetration. The rubber portions of the rabbeted threshold meeting the double seal on an automatic door bottom allows for less leaks. The corner gap where the seal meets the jamb, as any specifier or acoustician knows, is always the biggest issue. The installation of a surface-mounted door bottom in conjunction with a rabbeted saddle mitigates the issue of lost sound in corners.
The more innovative approach is to have an electronically retracting door bottom that can be activated with a switch—either a keypad, key switch, or a standard momentary switch with no credential requirements. This feature is extremely useful in settings where sound control is particularly crucial, such as law firms and doctor's offices, and room occupants are also made aware of the feature and its importance.